Thrive Summit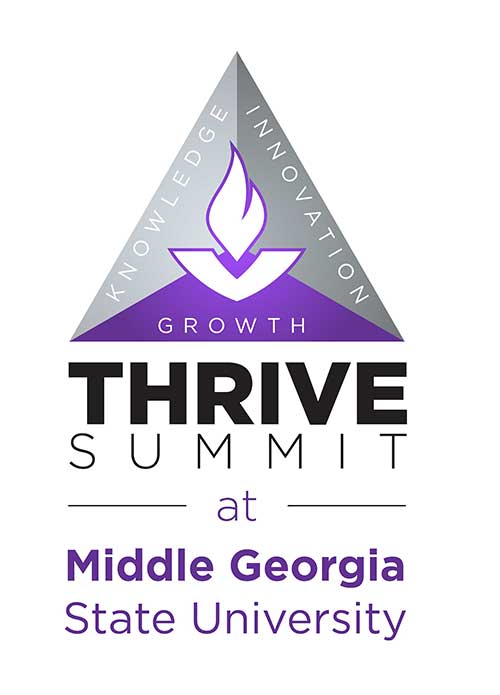 Middle Georgia State University will be hosting the THRIVE Summit in conjunction with the Community Foundation of Central Georgia and the United Way of Central Georgia. The MGA THRIVE Summit will facilitate growth in our region through the promotion of best practices and collaboration among community stakeholders. It is our desire to share information on the current state of community assets and resources, highlight innovative approaches for community and region building, and to encourage a continuation of partnerships locally and regionally. For more information about this event, please contact Dr. David Biek, david.biek@mga.edu.
REGISTER HERE
---
Date: May 15, 2019
Location: HCC Ballroom, Macon campus of Middle Georgia State University
Program Agenda
9:45 a.m.
Registration
10:15 a.m.

Welcome Remarks + Continuing the Conversation
Dr. Christopher Blake, President – Middle Georgia State University
Dr. David Biek, Dean – MGA School of Education and Behavioral Sciences

10:30 – 10:50 a.m.

On the Table Report Out
Ms. Kathryn Dennis - Community Foundation

10:50 – 11:20 a.m.

Community Engagement + Innovation
Mr. George McCanless United Way of Central Georgia
Highlights of innovative United Way projects (i.e. change in their funding strategy, CARE Center overview and highlight of community engagement projects/capabilities)

11:30 a.m. – 12:30 p.m.

Networking Lunch
Keynote Speaker: Judge Verda Colvin (speaker from 12:00-12:20)
Judge Verda will talk about the update to the One Macon! Strategic Plan, key findings in five specific areas and a call to action to be bold in developing strategies to address them.

12:30 – 1:00 p.m.

Community Change Rubric
Fourth Economy Consulting (working with Community Foundation)

1:00 – 2:00 p.m.

"President's Panel"
Moderated by Ms. Kathryn Dennis – Community Foundation

2:00 – 2:10 p.m.
Closing remarks + Build Session Transition
2:10 – 4:00 p.m.

BUILD SESSIONS
Interactive work sessions - using a human-centered design approach to ideation - addressing key areas of importance for Macon-Bibb in ensuring people want to both live and work here.