MGA Aviation featured in "The World According to Jeff Goldblum" on Disney+
Author: Lee Greenway
Posted: Wednesday, January 19, 2022 12:00 AM
Categories: Pressroom | School of Aviation | Faculty/Staff | Students
---
Eastman, GA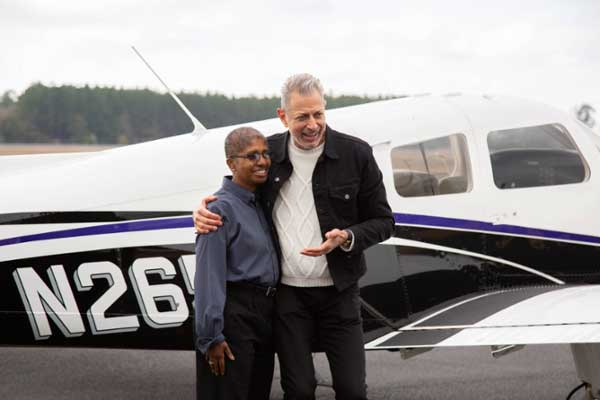 Jeff Goldblum has a unique way of looking at the world. In his Disney+ streaming series, "The World According to Jeff Goldblum," each episode features the actor and musician taking a deep dive into a particular subject, from blue jeans to ice cream, monsters to sneakers. And puzzles – including the puzzle that is air traffic control.
In February 2021, Goldblum and the show's production crew visited Middle Georgia State University's (MGA) Eastman aviation campus to take a look at the question – how do air traffic controllers solve the complicated puzzle of keeping the airways safe and on time, in realtime, with actual planes and passengers on the line?
For three days, Goldblum wandered the halls of the Eastman Campus, talking with faculty and students, getting hands-on in the school's state-of-the-art simulators, and ultimately taking the headset for himself and directing one of MGA's Piper Archers in for a safe landing. During his time on campus, he was guided in his efforts by late MGA faculty member, Lisa Henry, then-program coordinator of the University's Air Traffic Management department.
"Lisa was thrilled to get to meet and be on camera with Jeff Goldblum," said Adon Clark, Dean of the School of Aviation. "She worked with him just as if he was one of our students – impressing on him the importance of positive control over the airways, drilling him on radio procedures, and getting him ready to step into the tower and strap on a controller's headset for the first time."
Henry, who passed away in August, is featured prominently in the episode and is memorialized with a special title card at the end of the program.
During the segment, Goldblum takes a position in the tower at the Heart of Georgia Regional Airport in Eastman, and offers clearances and directions to two of MGA's flight students, Madelyn Hale and Julia Snipe, coming in for a landing after a training flight. "This plane is ready to land," says Henry, as Goldblum picks up a microphone and prepares to issue a landing clearance.
The two pilots in the MGA light aircraft were excited to be on screen with the "Jurassic Park" star. "Mr. Goldblum was all kind words and chaos," said Hale. "He had a magnetism about him that was palpable. You could see it in everyone's face. This was someone who was set on bringing people together, and his kindness rallied everyone behind that cause."
Later in the episode, Goldblum tries his hand at handling multiple aircraft simultaneously, in the University's tower simulation lab. "You've got to make order out of chaos," Goldblum says as he looks at the myriad monitors, charts, flight strips, and other equipment necessary for the safe management of the airways. Henry agrees, remarking that the job of air traffic controller requires not only knowledge and skill, but also creativity.
"You always have to have a Plan B," she tells the actor, "and it takes some kind of creativity to do that."
Clark hopes that seeing this episode will encourage students to consider studying air traffic management at MGA. "Lisa's excitement came in part from the exposure this show is going to give our program and air traffic controllers in general. She loved what she did, and she did it well. I wish she was still with us to enjoy the premier of the show and that I could see the excitement on her face."
Henry served as the lead of the University's air-traffic control program for five years. Following her passing, the University established a scholarship in her name, which supports students pursuing a degree in Air Traffic Management.
"Ms. Henry was a beacon of light at MGA and served as a role model for so many like me who came to aviation in need of encouragement and guidance. At the end of the day, I know I will carry these memories close to my heart," said Hale.
Learn more and find out how to watch
"The World According to Jeff Goldblum"
- viewing the episode requires a Disney+ subscription.
Find details about donating to the
Lisa Henry Memorial Scholarship
. And learn more about MGA's
School of Aviation
, Georgia's flagship aviation school.