Morris Bank Pledges $100,000 To MGA Health Sciences Expansion
Author: Whitney Kilgo
Posted: Tuesday, May 24, 2022 12:00 AM
Categories: Pressroom | School of Health and Natural Sciences
---
Dublin, GA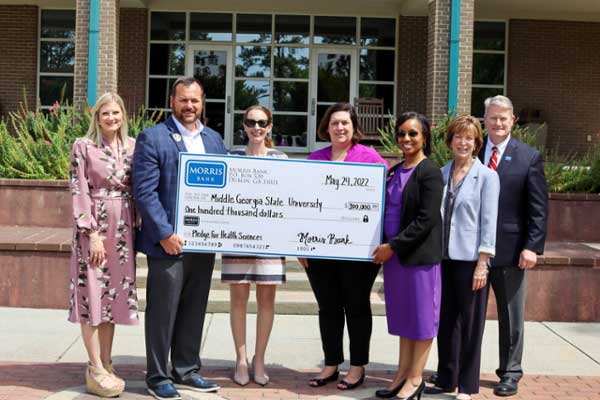 Middle Georgia State University (MGA) received a pledge of $100,000 from Morris Bank to fund the new state-of-the-art nursing lab currently under construction on the Dublin Campus, which the University is transforming into a healthcare degree program hub. The lab is one of the many enhancements of the campus renovation that will play an immense role in the healthcare industry both locally and throughout the state.
"We are pleased to play a part in the institution's growth and expansion of their nursing program here in Laurens County," said Spence Mullis, President and CEO of Morris Bank. "This is an outstanding project with such a large impact to our community and all of Middle Georgia, and we couldn't be more proud to partner with MGA to help make this happen. Healthcare is an essential driver to developing and growing a community. We are firm believers that nursing is one of the most noble professions one can choose to enter."
Once complete, the nursing lab will be named after Morris Bank and will serve as a valuable resource to nursing students within the MGA program.
The expansion of MGA's Health Sciences campus will allow the university to graduate 67% more nurses each year, 40 of whom will be BSN-prepared adding 100 additional nurses to the workforce pipeline each year. The renovations will include a new 100-seat classroom, hospital labs, a simulation lab, observation rooms, and additional instructional space for students to engage and develop essential nursing skills. The expansion is currently in progress and is expected to be competed in August 2022.
"Morris Bank's substantial gift is a powerful statement about their commitment to shape a better future for the communities they are a part of," said Dr. Christopher Blake, MGA president. "I am profoundly grateful for their investment in the School of Health and Natural Sciences at Middle Georgia State University. This generous gift will have a sustained impact on expanding the nursing capacity to better serve the healthcare needs of veterans and rural Georgia."
About Morris Bank – Morris Bank is a community bank rooted in Middle and South Georgia with branches in Laurens, Jones, Houston, and Bulloch Counties and a Mortgage Services Center in Milledgeville. In an ever-changing banking environment, Morris Bank still takes a common-sense approach and leverages practical financial solutions. Decisions have been made locally since 1954, and the Morris Bank team is ready to make banking easy for you. To learn what it means to Bank Blue or to find out more about our Code Blue philosophy, visit www.morris.bank. Member FDIC. Equal Housing Lender. Morris Bank NMLS 486851.
Source: Morris Bank news release.