MGA Grad Makes History As First Woman To Pilot Helicopters For Georgia State Patrol
Author: Sheron Smith
Posted: Monday, August 22, 2022 12:00 AM
Categories: Students | Faculty/Staff | Pressroom | School of Aviation
---
Eastman, GA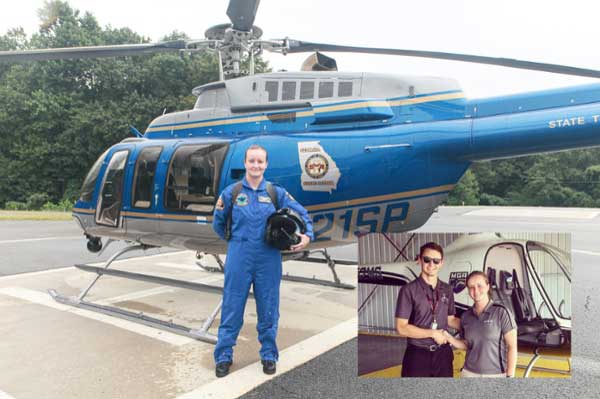 The aviation bug bit Haley Jo Lucas at about age 14, when she toured a beach by helicopter during a family vacation. 
So she added "helicopter pilot" to her list of dream jobs, along with law enforcement officer and veterinarian. 
Eventually, the animal-loving teenager from Warm Springs, Ga., realized she probably didn't have the temperament to make the difficult decisions that veterinarians sometimes have to make, such as whether to euthanize sick or injured pets.
But as far as her other two choices? Lucas was able to combine those into a history-making career.
Today, at age 27, the Middle Georgia State University (MGA) graduate is the first female helicopter pilot in the Georgia State Patrol's Aviation Division. In early August 2022, the division presented her with her wings at a ceremony attended by many of her colleagues and family members.
"We hope Trooper Lucas's accomplishment inspires other young women to pursue their dreams," Col. Christopher C. Wright, Georgia Department of Public Safety commissioner, said in a written statement issued after the ceremony.
While pleased to be part of history, Lucas said her goal was never to become "the first female anything. I just wanted to be a helicopter pilot. That's what I worked toward minute by minute, hour by hour, day by day."
That journey began the day she took the helicopter ride at the beach.
"The pilot happened to be a woman, and I was just fascinated at all the controls and at how things looked from the air," Lucas said. "After that, I started researching all different kinds of jobs that helicopter pilots can do, and I found out that Middle Georgia State has an aviation school in Eastman, which wasn't too far from home. I did all four years there and really enjoyed it."
She graduated in 2017 with her degree in Aviation Science and Management in the helicopter flight track. By then, a family friend who was a retired trooper was encouraging her to consider the Georgia State Patrol.
"I didn't even realize until he told me that the Georgia State Patrol had an aviation unit," Lucas said.
The GPS requires all troopers to work on the roads before joining a specialized unit. So after graduating from trooper school, Lucas spent her first year and half assigned to Post 34 out of Manchester, even though she was already a commercially licensed helicopter pilot.
"I enjoyed being a road trooper," she said. "I had both good and bad experiences dealing with people but I was representing the state of Georgia so I always put on a good face."
In April 2021, Lucas joined the GSP Aviation Division, which provides the patrol with public-safety air support. The division's fleet consists of 15 helicopters and a Cessna 182 airplane.
Lucas currently serves at the rank of trooper first class and flies missions every day searching for missing people or fugitives, marijuana fields, post-storm property damage, or carrying out other duties.
She's also picking up more specialized flying skills. Lucas is now certified to fly using night-vision goggles, and soon she will begin training in helicopter fire-suppression techniques.
Flying for the GPS "has definitely lived up to my expectations," Lucas said. "Nothing is routine, and I really love that."  
She said she's received nothing but support from her male colleagues in the aviation unit. "I think some of them have been even more excited than I am," Lucas added.
Last week, Lucas had been scheduled to make a dramatic return to the School of Aviation by flying a Georgia State Patrol helicopter to the Eastman Campus. The event was a fly-in held as an early celebration of National Aviation Day, which was August 19.
A last-minute duty call prevented her from participating in the event. But Lucas still has advice to offer to prospective students interested in MGA's flight programs: research the school and the aviation industry, map out their career goals, and, most importantly, practice patience.
"A lot of people these days seem to want things to happen instantaneously, but life doesn't work that way," she said. "There were times when four years of college and then trooper school seemed like it would take forever to finish. But I did finish, and it was so worth it."  
MGA is the home of Georgia's flagship School of Aviation, which offers degrees leading to careers in flight (fixed wing and helicopter), air traffic management, or structural and maintenance technology. Learn more at mga.edu/aviation.