MGA Waives Application Fee For 'Apply to College' Month
Author: News Bureau
Posted: Wednesday, November 2, 2022 12:00 AM
Categories: Events- Public | Pressroom | Students
---
Macon, GA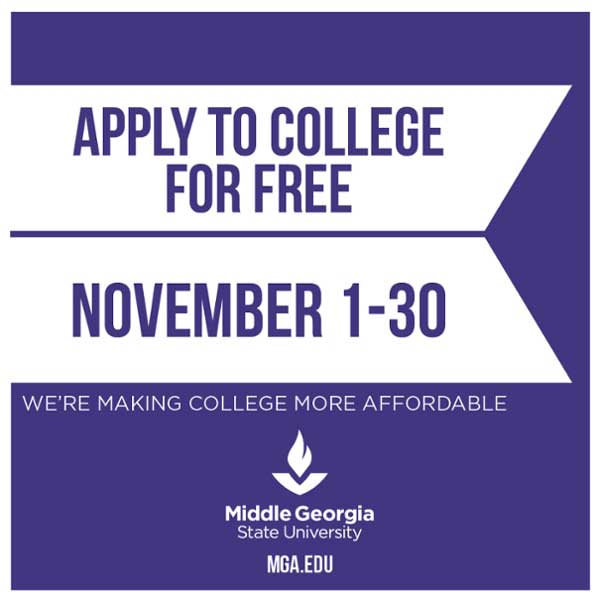 Middle Georgia State University (MGA), already the most affordable public state university in Georgia, is even more of a bargain for anyone who applies for admission this month.  
November is "Apply to College Month." MGA is supporting the effort by waiving the application fee for anyone who applies for admission during the month. During "Apply to College Month," the Georgia Student Finance Commission and other state education agencies invest extra effort in providing high school seniors an opportunity to apply to college using GAfutures.org.
"Applying to college can be stressful but Middle Georgia State University is committed to helping students and their parents clear away obstacles to the admissions process," said Dr. Stephen Schultheis, MGA's vice president for Enrollment Management. "Waiving the application fee during the month of November is just one part of that effort. Our admissions staff is highly skilled at helping prospective students navigate the application process."
Total tuition and fees for a full-course load at MGA is $2,381 per semester for undergraduate students. Graduate degree classes, most of which are fully online, are $255 per credit hour.
More information about applying to MGA is at https://www.mga.edu/admissions/index.php.
About Middle Georgia State University:
Middle Georgia State University (MGA) serves about 8,000 students on campuses in Macon, Cochran, Dublin, Eastman, and Warner Robins and online. Students can choose from 65+ areas of study – including information technology, health sciences, media/communication, business, and aviation - that lead to bachelor's degrees. MGA also offers professionally oriented master's degrees, including in IT, professional leadership, public relations, secondary education, nursing, and technical and professional writing, as well as a doctorate in IT. About 20 MGA degrees are offered entirely online. The University is home to Georgia's flagship aviation school – based on the Eastman Campus - and a four-year degree in flight. Student housing is available on the Macon, Cochran, and Eastman campuses. Ten women and men's athletics teams compete in the Southern States Athletic Conference of the National Association of Intercollegiate Athletics.