Live Streaming
Middle Georgia State University
2021 Fall Commencement
---
A Message from the President of Middle Georgia State University
What a remarkable eighteen months this has been. By now, even just saying the numbers "2020" serves as a convenient shorthand for plans that have gone awry and for unexpected hurdles encountered. But when you look back on this time, I hope that it is not only the plans gone awry that you remember – rather, that you remember goals that you have achieved. I hope that it isn't only the hurdles that you remember – rather, that you remember the grace and aplomb with which you have cleared them. In doing this you today have achieved what we challenged you to do at the start of your college career – to FIND YOUR GREATNESS!
I am delighted that we are once again able to gather together, even if it is somewhat limited, to celebrate your tremendous accomplishments. Commencement is meant to be a celebration amongst a community of scholars. 
I cannot impress upon you enough my pride in and my admiration for you – our 2021 graduates – for your success in navigating this wholly-new world to accomplish something you set out to do long before anyone, anywhere had ever heard of COVID-19.
As we celebrate this year's Commencement, and as you proceed on to festive – and safe – celebrations with your friends and family, never forget that no matter where you go, you will always be our alumni.  You will always have a home at Middle Georgia State. And we will always take pride in your success. You truly are bringing greatness to our world in all your endeavors.
Congratulations!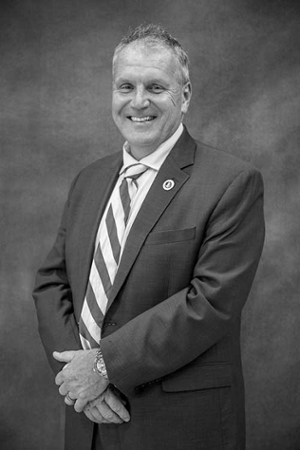 A Message from the Middle Georgia State University Alumni Association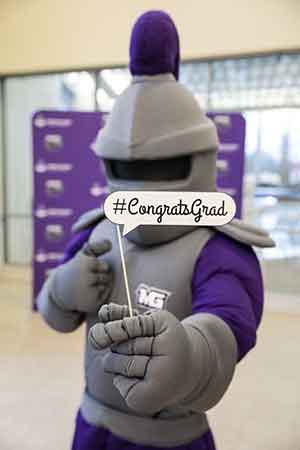 Your hard work, all-nighters, and constant multi-tasking paid off! You have persevered through these challenging times, and it is with great pleasure that we welcome you to our Alumni Association.
We will continue to help build and strengthen our beloved Middle Georgia State University. To that end, we invite you to help us take the next step by remaining involved in the life of the University. Together we can have an immediate impact upon the success of our alma mater, its current students and our alumni community in many ways.
The Office of Alumni Affairs and the Alumni Association Board of Directors welcomes your involvement and participation. Again, congratulations!
Connect with the MGA Alumni Association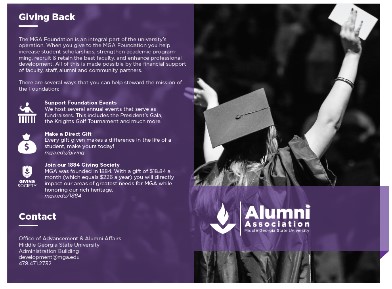 ---