MGA's 2022 Academic Recognition Day Scholar Plans Career In Dentistry
Author: News Bureau
Posted: Monday, February 14, 2022 12:00 AM
Categories: School of Health and Natural Sciences | Honors/Awards | Students | Pressroom
---
Cochran, GA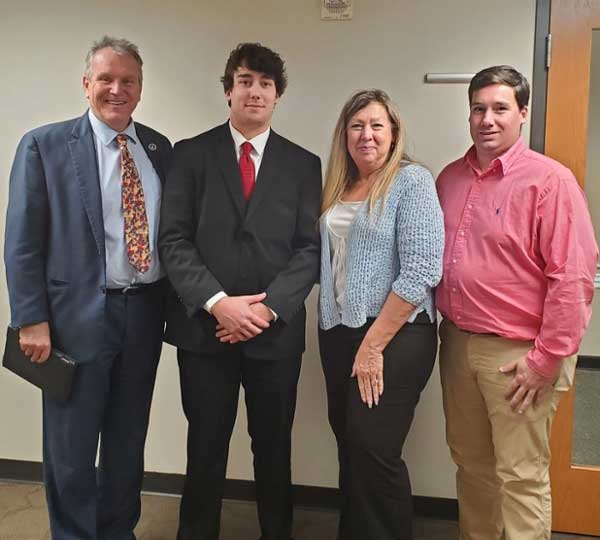 Alexander James "A.J." Kahrmann, Middle Georgia State University's 2022 Academic Recognition Day Scholar, hopes to return to his hometown of McRae-Helena in a few years to begin a career in dentistry.  
But first things first. The 22-year-old biology major will graduate from Middle Georgia State this spring, then he's off to the Dental College of Georgia, part of Augusta University.
"I can see myself returning to (the region) to work as a dentist in our underserved communities," Kahrmann said. "Eventually I would love to start my own dental practice or work with some of the incredible dentists that I have shadowed."
Kahrmann said he chose MGA because it's close to his hometown and he could commute to the University's Cochran Campus. "My two older brothers attended MGA, and they enjoyed their time, studies, and friends," he said. "My mom, Carol Kahrmann, is also a big supporting part of my life."
At MGA, Kahrmann is part of the Science Club and Honors Program. He has served as a Student Success Center tutor and founded a student organization – the Pre-Professional Club -  for students interested in pursuing medical, dental, veterinary, or law school after completing bachelor's degrees. Alongside one of his brothers, he is a volunteer firefighter/first responder for the city of McRae-Helena.
His greatest academic experiences at MGA include taking general chemistry classes taught by Dr. Estelle Nuckels, associate professor of chemistry, and microbiology and genetics taught by Christie Canady, associate professor of biology. "Both of these professors have had a significant impact on building my knowledge during my time at MGA," he said, "but it is hard to name only a few wonderful professors. I've had many really talented professors while at MGA."
Kahrmann said he is grateful for the honor of the Academic Recognition Day Scholar selection. "It feels great to see my hard work studying and being active on campus pay off," he said. "I am honored to have been selected from such an inspiring group of other well-deserving students."
Each year, the Board of Regents of the University System of Georgia recognizes one student from each of the state's 26 public colleges and universities as Academic Recognition Day Scholar. Each student best represents the system's highest scholastic ideals in GPA, excellence, and the ability to share knowledge. The honorees receive a resolution from the Georgia House of Representatives and a letter of commendation from the University System chancellor.