Finding Greatness: Matthew Samson
Author: News Bureau
Posted: Thursday, March 10, 2022 12:00 AM
Categories: Students | Finding Greatness | School of Health and Natural Sciences | Pressroom
---
Cochran, GA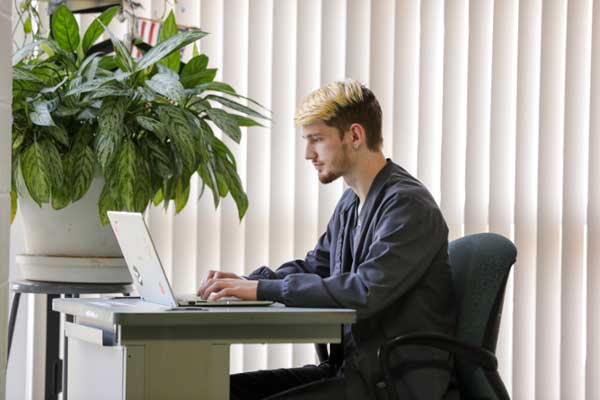 Matthew Samson is pursuing MGA's associate's degree in the occupational therapy assistant program and hopes to begin his career working for a school system and helping children. He is active in the OTA Student Club, serving as president his sophomore year.
Full Name: Matthew James Samson.
Age: 21.
Residence: Warner Robins.
Family: Noah Perry (partner), Michael Samson (brother), Peter Samson (father), Kara Miller (mother), Benjamin "Ben" Miller (brother), Freckles (dog).
Employment: "I am currently an employee at a yogurt shop in Warner Robins. I've been an employee there since 2018. I won't be celebrating my 5th-year employment anniversary because I hope to have a new job as a certified occupational therapy assistant (COTA) in a school system after graduation."
Degree Objective: Associate of Science, Occupational Therapy Assistant.
Class Rank: Senior.
Primary Campus: Cochran.
Activities: "In my first year in the OTA program, I was vice president of the OTA club. In my second year, I held the title of president. I was the class representative for gathering ideas and communicating with professors and other outside organizations in order to develop fundraising or donation events."
Career Goals: "When I graduate and become a certified occupational therapy assistant, I hope to work in a school system. I absolutely love kids because they are so cute, funny, and full of so many creative ideas. They always know how to keep you on your feet and force you to come up with new, fun, and creative activities that will keep them engaged, motivated, and improving. Not only that, but they have so many questions and opinions that help me see things from a new perspective that I may have not even thought to consider before. In a way, they, too, are teachers! Being able to help them develop and teach them many valuable skills and coping mechanisms would be an honor! I want to be that person that at least one kid can look back on and smile when they think of me. Even if no kid remembered me after we were done together, I could rest easy knowing I helped them develop into the best version of themselves."
He chose Middle Georgia State University because … "It was close to my home, affordable for me, and offered a wide variety of courses." 
The greatest thing he discovered about Middle Georgia State was … "MGA is still growing! The University is adding to its campuses, adding more courses, more programs, and offering more opportunities for students to find out what is right for them."
His greatest academic experience at MGA has been … "Passing my major classes with all As and Bs! It really shows that I understand the material and its importance, which is vital for going into a healthcare field!"
To him, "greatness" means … "I believe that the word 'greatness' carries a lot of weight, and because of that, a lot of people get stressed and weighed down by the social expectations that come with being 'great.' With that in mind, I believe that if you can achieve your goals, even small ones, and maintain a healthy and meaningful work-life balance, I'd say that you're doing great! Greatness means meeting your goals with little to no regrets."
In five years … "I hope to have begun my career in a school system and have saved up enough money to buy a place of my own with my partner, a dog, and a cat."