Finding Greatness: Yvonne Hartridge
Author: News Bureau
Posted: Tuesday, October 11, 2022 12:00 AM
Categories: Finding Greatness | Students | Pressroom | School of Health and Natural Sciences
---
Cochran, GA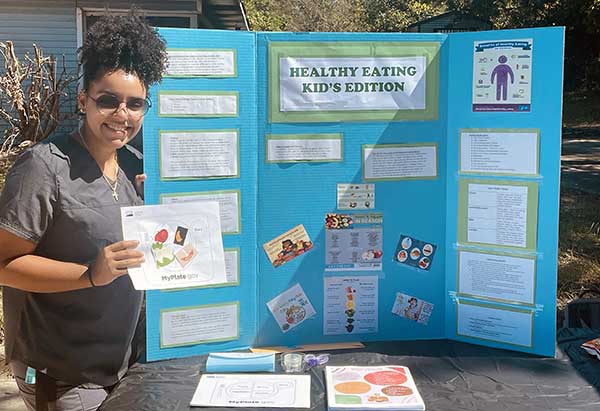 Yvonne Hartridge is finishing up her degree in the Occupational Therapy Assistant program. A standout student, former Knights softball player, and MGA Cochran Campus leader, she hopes to combine OT with her athletics background into a career working with kids.
Full Name: Yvonne K. Hartridge.
Age: 23.
Hometown & Residence: The Bronx, N.Y.
High School: Cardinal Spellman High School, The Bronx, N.Y., where she played varsity softball and participated in the photography club and Emmaus religious retreat. Volunteer work included participation in Bronx Fathers Taking Action Group, fast pitch softball clinics, and Young Achievers after-school program.
Family: Mother, Patricia Hartridge; father, Ronald J. Hartridge; sister, Patricia A. Pabon.
Employment: "While at school I do not work, but when I am at home in New York I work at a physical therapy office as a PT aide and I coach and do softball training."
Degree Objective: Associate of Science, Occupational Therapy Assistant. Hartridge also has an associate's degree in Health and Physical Education Studies from Corning Community College, where she played on the softball team, and a B.S. in Exercise Science from the University of Maine - Presque Isle, where she was inducted into the National Society of Leadership and Success and received several service awards.
Primary Campus: Cochran.
Class Rank: Senior.
Activities: Occupational Therapy Assistant Student Club, Knights Hall RA, former member of the MGA softball team.
Career Goals: "Once I graduate from the Occupational Therapy Assistant program, I hope to pursue a career in pediatric OT. I have such a passion for working with kids and I feel like this will be a great fit for me. Because of my background in athletics, I would also love to have the opportunity of utilizing OT in the sports world."  
She chose Middle Georgia State because … "The reviews of the Occupational Therapy Assistant program were great, and I would have a chance to complete my softball eligibility. I knew that coming to Middle Georgia State was going to help expand my knowledge in the profession of Occupational Therapy and that my professors were going to do everything they could to assist me in feeling confident and prepared. One of the best decisions I ever made was to come to Middle Georgia State University."  
The greatest thing she discovered about Middle Georgia State was … "How welcoming and family-oriented the staff is in the Occupational Therapy Assistant department. The staff in this department has been absolutely awesome and very welcoming to me, especially being an out-of-state student. When in doubt I can always go to my professors with inquiries, or concerns - or just share a couple of jokes. Extremely grateful to have experienced learning in this program with these professors!"
Her greatest academic experience as a Middle Georgia State student has been … "Passing my pre-fieldwork practical this semester. A pre-fieldwork practical consists of utilizing all the components we learned the following year to see if we are ready to go into level 2 fieldwork (which is where we are assigned to two different areas of practice to work with actual patients)."  
To her, greatness means … "Being able to achieve goals that you have set for yourself and give back to a group of people in a meaningful and purposeful way. Many people presume that greatness means you are famous and everyone is going to remember you based on your status in life. I see it as helping to impact the next generation when it comes to sports, figuring out academic goals and college opportunities, helping them establish who they are as a person, and even in some circumstances helping them find their own greatness in life. Additionally, being able to be successful throughout my academic years and receive one degree after another, achieve my goals, impact the next generation, and allow myself to grow and learn from others, makes becoming great such a fun and exciting adventure. I never intended to become someone that ends up finding greatness, but it's easy to do when you're participating in activities that bring so much purpose and meaning to your life."
In five years … "Hopefully I'll be combining my Occupational Therapy Assistant degree with coaching in the softball/sports world. It would be an absolute dream to be able to combine these two things that make up such a big part of who I am! I would also love to work somewhere where I can help OT assistant students get their level 1 and level 2 fieldwork. I have experienced recently how hard it is to nail down a facility that is able to give students that opportunity, so I would love to help make that process a little easier."