2023 College Town Film Series Explores "Brainwashed" Theme
Author: News Bureau
Posted: Wednesday, January 4, 2023 12:00 AM
Categories: School of Arts and Letters | Students | Faculty/Staff | Pressroom | Events- Public
---
Macon, GA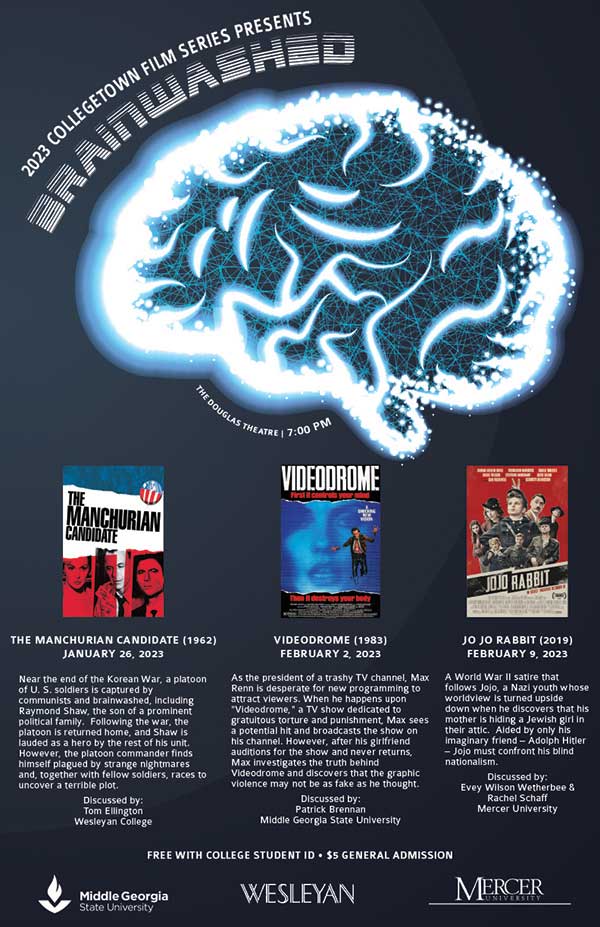 "Brainwashed" is the theme of the 2023 College Town Film Series, which kicks off Thursday, Jan. 26, at the Douglass Theater in downtown Macon.

A collaboration of Middle Georgia State University, Wesleyan College, and Mercer University, the annual College Town Film Series brings students, faculty, and the public together to view and discuss educational and entertaining films with a common theme. A professor from each institution hosts discussions of each film.
 "As a practical matter, we chose "Brainwashed" because we have never addressed that theme before and we try not to repeat ourselves," said Dr. Robert Burnham, MGA history professor who founded the film series more than 20 years ago and remains one of its primary organizers. "However, we also chose it because of the interesting ways that it has manifested itself in popular films, reflecting, especially, the impact of World War II and the Cold War period, as identified with the threat posed to the individual by totalitarianism, concerns explored in "The Manchurian Candidate" and "Jo Jo Rabitt."  But the theme also speaks to contemporary fears about the use of technology and mass media to exert other forms of mind control and personality deformation, subjects addressed by "Videodrome." 
The 2023 film selections and screening schedule are:

7 p.m. Thursday, Jan. 26 – The Manchurian Candidate (1962). Discussion led by Tom Ellington of Wesleyan.
Near the end of the Korean War, a platoon of U. S. soldiers is captured by communists and brainwashed, including Raymond Shaw, the son of a prominent political family. Following the war, the platoon is returned home, and Shaw is lauded as a hero by the rest of his unit. However, the platoon commander finds himself plagued by strange nightmares and, together with fellow soldiers, races to uncover a terrible plot.
7 p.m.  Thursday, Feb. 2 – Videodrome (1983). Discussion led by Patrick Brennan of Middle Georgia State.
As the president of a trashy TV channel, Max Renn is desperate for new programming to attract viewers. When he happens upon "Videodrome," a TV show dedicated to gratuitous torture and punishment, Max sees a potential hit and broadcasts the show on his channel. However, after his girlfriend auditions for the show and never returns, Max investigates the truth behind Videodrome and discovers that the graphic violence may not be as fake as he thought.
7 p.m. Thursday, Feb. 9 – Jo Jo Rabbit (2019). Discussion led by Evey Wilson Wetherbee & Rachel Schaff of Mercer.
A World War II satire that follows Jojo, a Nazi youth whose worldview is turned upside down when he discovers that his mother is hiding a Jewish girl in their attic. Aided by only his imaginary friend – Adolph Hitler – Jojo must confront his blind nationalism.
All films will be screened at the historic Douglass Theater, 355 Martin Luther King Jr. Boulevard in downtown Macon. Students with college ID are admitted free. Admission for faculty/staff and the general public is $5. Tickets may be purchased at the door on the night of each screening.