Gulfstream Awards Grant To Support MGA's Aircraft Maintenance & Structural Technology Programs
Author: News Bureau
Posted: Wednesday, June 14, 2023 12:00 AM
Categories: Students | In the News | School of Aviation | Pressroom | Faculty/Staff
---
Savannah, GA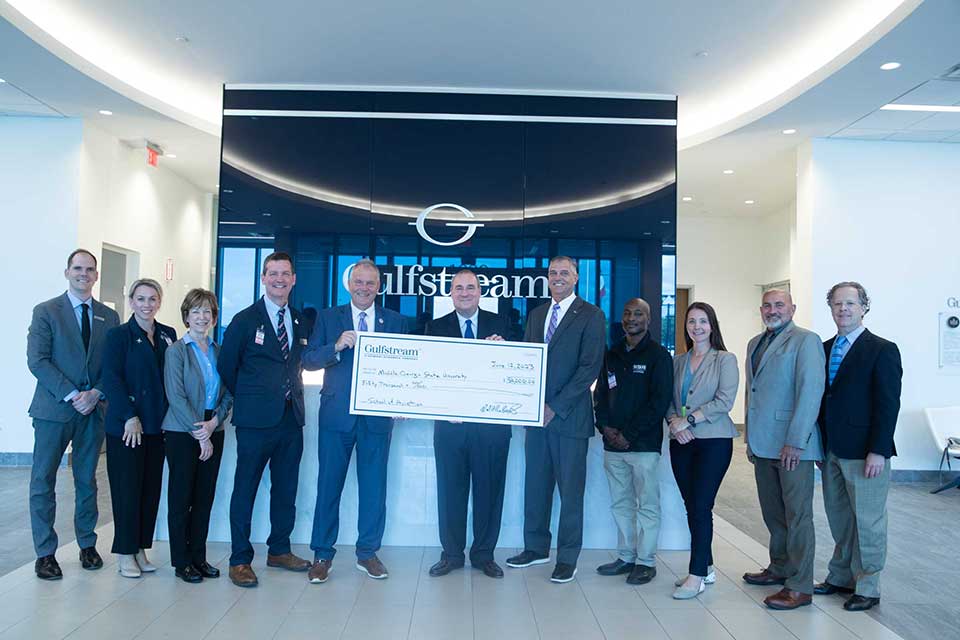 Gulfstream Aerospace Corporation has awarded $50,000 to the Middle Georgia State University Foundation, to support technologically advanced training in composites and composite repair at the School of Aviation. 
The University's aviation school will use the grant to purchase Heatcon composite repair tool kits. Students in MGA's aircraft maintenance and structural technology programs will use the kits to learn state-of-the-art composite repair on aircraft. 
Gulfstream formally announced the award on June 12 in Savannah, home to its worldwide headquarters and largest service center. MGA representatives in attendance included Christopher Blake, Ph.D., president, and Adon Clark, dean of the School of Aviation.  
"As more composite aircraft are introduced into operation, it is imperative that our programs allocate more classroom and lab time to composites," said Martin Kehayes, chair of the School of Aviation's maintenance and structural technology department. "Our focus on composite repair outcomes is in response to specific requests from our industry partners. We are grateful to Gulfstream for providing the funds to help us grow the quality and quantity of composite repair training for our students." 
According to the publication Simple Flying, "composite materials are playing an increasingly important role in the manufacturing of modern airliners. These light compounds are advantageous when it comes to saving weight, thus improving the aircraft's efficiency." 
Gulfstream is a leading manufacturer of the world's most technologically advanced business aircraft. Together with parent company General Dynamics, Gulfstream consistently invests in the future, dedicating resources to researching and developing innovative new aircraft, technologies and services.  
MGA's School of Aviation, based in Eastman, is Georgia's flagship aviation school. In addition to applied associate's and certificate programs in aircraft maintenance and structural technology, the school offers a bachelor's degree in aviation science and management with a track in flight. The school also offers an applied associate's degree in air traffic management. Learn more at mga.edu/aviation. 
The Middle Georgia State University Foundation, Inc., is a philanthropic foundation that raises and manages donations to support Middle Georgia State University's mission and goals.