Need For Speed: MGA Flight Student An Accomplished Spec Miata Racer
Author: Sheron Smith
Posted: Tuesday, June 20, 2023 12:00 AM
Categories: School of Aviation | Students | Pressroom
---
Eastman, GA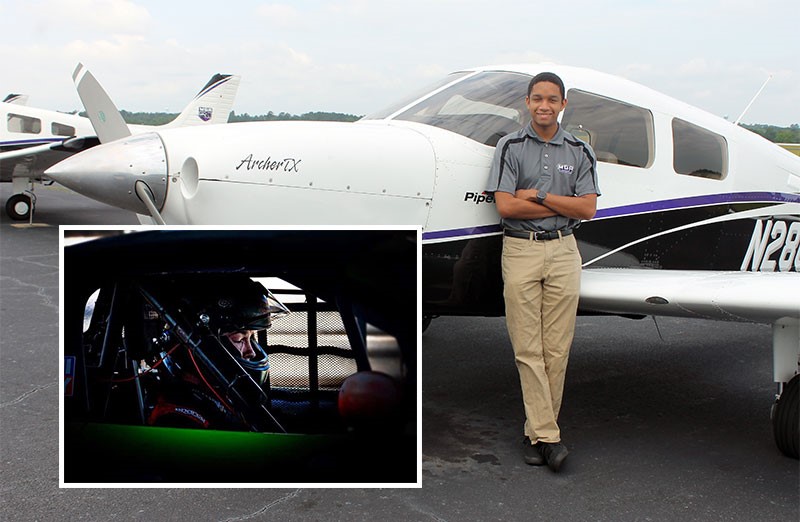 Last fall, when he enrolled at Middle Georgia State University to pursue a degree in flight, Antonio Abrom essentially hit the gas toward a career that offers an adrenaline rush on par with his fast and furious hobby of motorsports racing.
At age 12, a visit with his father to Atlanta Motorsports Park (AMP) in Dawsonville led to multiple seasons as a teen go-kart racer, a span that included his 2017 top finish in a major competition hosted by the facility.
From there, Abrom transitioned into professional Spec Miata racing, capturing two wins in 2022. He was the 2021 Sports Car Club of America (SCCA) Endurance Series champion in Spec Miata and later set a track record at Barber Motorsports Park.
"I've always had a passion for racing and flying," said the now 21-year-old Abrom, who is currently in the ground-school phase of his MGA program and will begin flight training this fall at the School of Aviation on the Eastman Campus. "I really think I can do both."
Abrom graduated from Georgia Highlands College with an associate's degree before transferring to MGA. Although he is apparently the only current aviation student who races cars professionally, he is not unique among MGA's pilots-in-training in his sideline thrill seeking. Men and women interested in flying are often drawn to hobbies such as scuba diving, boating, motorcycling, and skydiving, said Gene Behrends, MGA's assistant chief flight instructor.
"There really is a pilot mindset, and it's very broad," he said. "They are very competitive and detail oriented, and they like excitement and adventure."
That seems to be the case with Abrom, a Newnan, Ga., native and the only child of Robert Abrom, who is career Air Force, and Athena Abrom, a teacher. Although his father is not a pilot, the Air Force influence was strong on the son, who from his earliest memories wanted to learn to fly.
The kart racing evolved from regular father-son bonding experiences at AMP. "I got faster and faster," Abrom said, "so by the time I was 16 we talked about me starting to compete to see where it goes."
His first go-kart race was in St. Louis, near where his father was stationed at the time. "I did pretty well," Abrom said. "I was second out of all the rookies."
Fully entrenched in the motorsports world by then, Abrom and his father were well aware of Spec Miata racing. For those of us who aren't, here's a summary: Spec Miata is a class of racing car used in SCCA and National Auto Sport Association (NASA) road racing events. Using Mazda MX-5s in model years 1990-1993, 1994-1997, and 1999-2005, the Spec Miata (SM) class is intended to provide the opportunity to compete in low-cost cars with limited "specified" ("spec") modifications, suitable for racing competition. It is intended to encourage low-cost (relatively speaking), entry level, production car-based competition.
After attending an SCCA racing school, Abrom moved from karting to Spec Miata competition in early 2021.  
You might think decades-old Miatas would be hard to locate to spec modify for racing - but you would be wrong. "They're actually very easy to find," Abrom said. "My first one, a 2003, my dad and I saw in a (mechanic's) shop."
Now racing a 2004 model, Abrom's consistent performance in Spec Miata competition led him to join a team of about 15 drivers, Panic Motorsports, LLC. Abrom and his teammates compete all over the Southeast, with Abrom estimating he has raced in 25-30 events.
Like many minority motorsports competitors, Abrom lacks a commercial sponsor, but he does have a significant opportunity to build resources to support his racing career.
The International Motor Sports Association (IMSA) recently chose him as one of 10 candidates competing for the organization's diverse driver development scholarship.  Over the next few months, the 10 candidates will participate in a series of learning modules to bolster their off-track skills and assist them in approaching teams and submitting business plans to support their racing endeavors.
The scholarship recipient, to be named later this year, will receive benefits worth more than $250,000 to assist them in competing in one of three IMSA-sanctioned series during the 2024 season.
"I'm grateful for the opportunity," Abrom said. "This is a pretty expensive hobby."
As of late June, Abrom was preparing for two upcoming road races and looking forward to beginning his flight training. Instead of becoming a passenger airline pilot, Abrom's career goal is to fly cargo planes, in part because he thinks that will provide more flexibility for him to continue his racing hobby. He also hopes to become a certified flight instructor.
In the meantime, he's enjoying his classes on the Eastman Campus and living in an MGA residence hall on the nearby Cochran Campus, where he has a racing simulator in his room.
"I've already made a lot of friends within the flight program, and even outside of it," Abrom said. "I really love it here and I'm excited about the future."