The Delta Air Lines Foundation Boosts Aviation Education in Georgia With $3 Million Grant To Middle Georgia State University
Author: News Bureau
Posted: Monday, October 23, 2023 12:00 AM
Categories: School of Aviation | Pressroom
---
Eastman, GA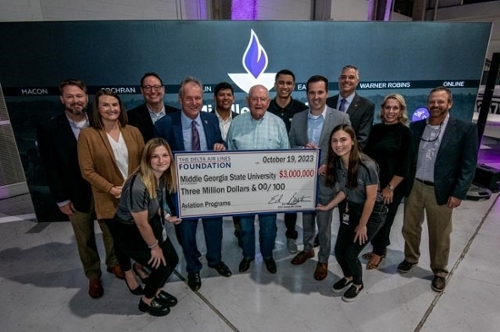 The Delta Air Lines Foundation has awarded a $3 million grant to Middle Georgia State University (MGA), marking a significant development in the institution's aviation programs. This substantial award, the largest single contribution in MGA's history, will help expand and enhance MGA's School of Aviation. It reflects the growing private support that complements public funding for Georgia's flagship aviation school, which plays a vital role in training pilots and aircraft maintenance personnel for one of the state's major industries.
"This grant opens doors to creating more opportunities for prospective students in our state to pursue rewarding careers in aviation," stated MGA President Christopher Blake, "We are deeply appreciative of The Delta Air Lines Foundation for recognizing the central role our School of Aviation plays in supporting Georgia's aviation industry."
The Delta Air Lines Foundation's award, granted to the MGA Foundation, will be distributed over a three-year period. The largest portion of the grant, $1.5 million, will be dedicated to long-term initiatives in aviation education, including the expansion of partnerships with K-12 schools across the state and the establishment of satellite flight-training locations in rural areas and around Atlanta. Based in Eastman, the School of Aviation currently operates satellite locations in Macon and Griffin.
To support these new initiatives, MGA will use $500,000 to procure cutting-edge equipment and $1 million to hire faculty, including establishing a new Delta Air Lines Endowed Professorship of Aviation.
MGA's aviation programs reflect the broad spectrum of Georgia's population. More than 90 percent of MGA's aviation students come from Georgia, representing 145 of the state's 159 counties in the School of Aviation this fall. This widespread representation ensures an aviation student body that is notably diverse, with minorities accounting for 39 percent of the student population and women making up 18 percent. On a national scale, women represent only 5 percent of maintenance technicians and 6 percent of pilots, while minorities constitute 21 percent of maintenance technicians and 7 percent of pilots.
In addition to a bachelor's degree program in aviation science and management with a major in flight, MGA offers applied associate's degrees in air traffic management, aircraft structural technology, and aviation maintenance technology, along with several certificate programs. MGA also offers an aviation-focused master's program in management and an applied bachelor's program in technical management.
Established in 1995, the School of Aviation has earned international accreditation for its bachelor's flight program. Operating a current fleet of 53 aircraft, the School of Aviation's enrollment has increased nearly 200 percent in the past five years.
About Middle Georgia State University (MGA): MGA is a leading public university in Georgia, committed to offering high-quality educational opportunities and fostering a diverse and inclusive community. MGA's School of Aviation stands at the forefront of aviation education, preparing students for rewarding careers in the aviation industry. With a commitment to excellence, MGA continues to be a hub for innovation and academic achievement.
About The Delta Air Lines Foundation: The Delta Air Lines Foundation is a nonprofit corporation formed in 1968 to enhance Delta's charitable giving. The Foundation is focused on the key areas of Environment, Equity, Education and Entire Wellness. In the past decade, The Delta Air Lines Foundation has awarded more than $125 million in grants to nonprofit organizations.