MGA Honors President's Scholar, Academic Recognition Day Scholar, & Other Students For Academic Achievements
Author: News Bureau
Posted: Tuesday, April 19, 2022 12:00 AM
Categories: School of Education and Behavioral Sciences | School of Aviation | School of Computing | School of Business | Students | School of Arts and Letters | School of Health and Natural Sciences | Faculty/Staff | Honors/Awards | Pressroom
---
Macon, GA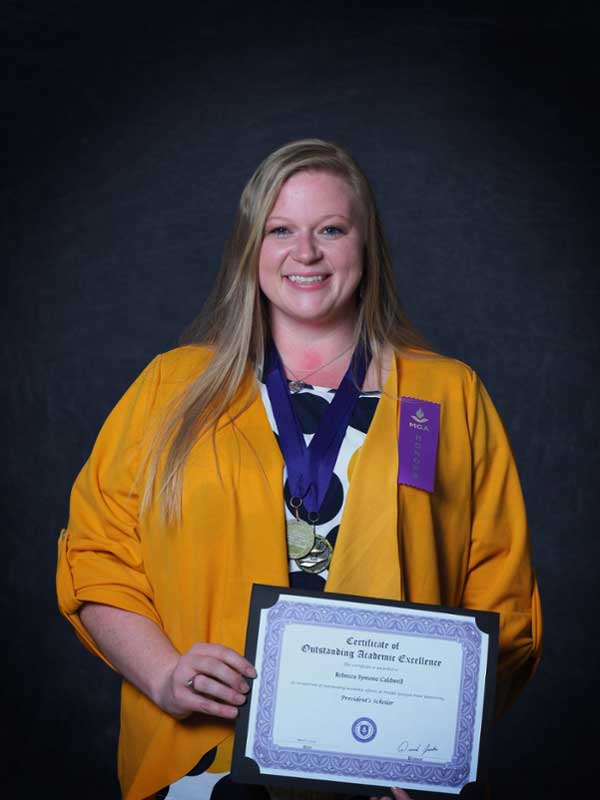 Rebecca Symone Caldwell, a senior finishing her Bachelor of Science in Early Childhood Education, is the President's Scholar for the Middle Georgia State University (MGA) Class of 2022.
Caldwell received the award at MGA Honors Convocation, held each spring to recognize graduating seniors for academic achievements. Every year, MGA's Student Honors, Awards, and Graduation Committee, with the approval of the University president, designates one graduating senior as the President's Scholar. The student chosen must have an outstanding academic record, have been involved in campus and/or community service activities, and demonstrate characteristics indicating the promise of a successful future.
Caldwell is a special education teacher intern at Bleckley County Elementary School. Her plans are to begin her teaching career in Dodge County, where she lives, and pursue graduate studies.
Alexander "A.J." Kahrmann, who is completing his Bachelor of Science in Biology, is MGA's 2022 Academic Recognition Day Scholar. He will enroll at the Dental College of Georgia this fall.
The Board of Regents of the University System of Georgia recognizes one student from each of the state's 26 public colleges and universities as Academic Recognition Day Scholar. Each student best represents the system's highest scholastic ideals in GPA, excellence, and the ability to share knowledge. The honorees receive a resolution from the Georgia House of Representatives and a letter of commendation from the University System chancellor.
Other students who received academic achievement awards are:
School of Arts & Letters
Outstanding Academic Excellence in English: Sierra Stark Stevens
Outstanding Academic Excellence in History: Haley Kassum
Academic Excellence in Applied Arts & Design: Abigayle Katelyn Powell
Outstanding Academic Excellence in Media and Communication: Joshua Eubanks
Outstanding Excellence in Contemporary Musicianship: Stephen Esmond
Outstanding Student Award in Modern Language, A.A.: Anna Kolbie
Outstanding Academic Excellence in Interdisciplinary Studies: Patricia Horvath
Academic Excellence in Visual Art: Rachel Harrelson
School of Aviation
Outstanding Academic Excellence in Aviation Maintenance Technology, Certificate: Theresa Mathers-Phillips
Outstanding Academic Excellence in Aviation Science & Management: Lane Barrows
School of Business
Outstanding Academic Excellence in Health Services Administration: Angelina Callaway-Williams
School of Computing
Outstanding Academic Excellence in Information Technology – Cybersecurity: David Thomas
Outstanding Academic Excellence in Information Technology: Victor Fordham
Outstanding Academic Excellence in Mathematics: Tanner Dupree
School of Education & Behavioral Sciences
Outstanding Academic Excellence in Secondary Education – Mathematics: Jacob Cook
Carol Bloodworth Award: Candace Smith
Outstanding Academic Excellence in Teaching, M.A.: Daniel Scott Myers
Outstanding Academic Excellence in Early Childhood Education: Rebecca Symone Caldwell
Academic Excellence in Social Work: Matred Conaway
Academic Excellence in Political Science: Emily Tavarez
Outstanding Academic Excellence in Criminal Justice: Madalyn R. Hudson
Academic Excellence in Psychology: Sarah Istambouli
School of Health & Natural Sciences
Outstanding Academic Excellence in Biology: Mason Long
Outstanding Academic Excellence in Nursing, M.S.N.: Andrew Simmons
Academic Excellence in Nursing, ASN: Corrine Wilkinson
Outstanding Academic Excellence in RN to BSN: Lisa Perdomo
Outstanding Academic Excellence in Nursing, Pre-Licensure BSN: Rebecca Bobbitt
Outstanding Academic Excellence in Rehabilitation Science: Carson Ratley
Academic Excellence in Respiratory Therapy Entry-Level, B.S.: Hong Nhi Nguyen
Outstanding Academic Excellence in Respiratory Therapy Bridge/Completion Program: Tyler Hilton Hood
Honors Graduate Awards
Honors Discipline Curriculum Graduate: Katie Poupard
Honors Discipline Graduates: Ashley Rebecca Black, Alexander J. Kahrmann, Breanna N. Kight, Callie R. Gibson, Hanna N. Lawson, Matred Conaway, Matthew A. McDaniel, Rebecca Symone Caldwell, Scarlett L. McCurry, Sierra Stark Stevens