Finding Greatness: Breanna Law
Author: News Bureau
Posted: Monday, May 23, 2022 12:00 AM
Categories: Pressroom | School of Education and Behavioral Sciences | Finding Greatness | Students | Faculty/Staff
---
Macon, GA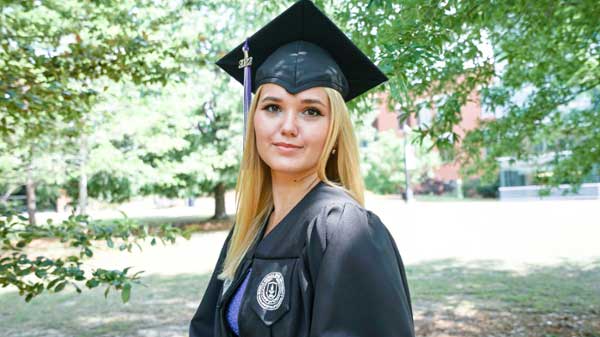 Breanna Law, whose career goal is to become a psychotherapist, just graduated from MGA with her bachelor's degree in psychology. She was an undergraduate research assistant for a study examining mental health stigma. Her next step is starting the master's program in psychology at Augusta University this fall.
Full Name: Breanna Raquel Law.
Age: 22.
Hometown: Fayetteville, N.C.
Residence: LaGrange, Ga.
High School: "I attended Cape Fear High School from 2013-2016 in Fayetteville, N.C., and was a member of Key Club, a community service organization. In 2016 I moved to Faribault, Minn., and attended Faribault High school until I graduated in 2018. There I joined DECA, a student-led leadership organization, where I had the opportunity to compete in regional competitions. I graduated with a 3.98 GPA."
Family: Mother, Stephanie Kennedy Raynor; father, Joseph Andrew Raynor.
Degree: "I just graduated this year with a Bachelor of Science in Psychology from MGA. I have been accepted into Augusta University's master's degree program in psychology and will start this fall.  Afterwards, I want to pursue a Ph.D. in clinical psychology.
Activities: Volunteer undergraduate research assistant (2020-2022) to Dr. Scott Hinze. The name of the research study is "Effects of Biological Explanations and Refutations on Mental Health Stigma."
Career Goals: "Eventually, I plan to pursue a doctoral degree in clinical psychology. I want to obtain psychology licensure and a career in psychotherapy with related research. I hope to be able to use the skills I acquire to assess, diagnose, and implement versatile, personalized treatments to individuals with mental health concerns in the clinical setting. I also hope to use the knowledge and position I will gain to expand the current outreach of professional mental health treatment to a wider variety of individuals. I am particularly interested in treating those with anxiety and depressive disorders, and conducting research on this matter in order to better understand them and to improve and develop evidence-based interventions."
She chose Middle Georgia State University because … "It not only offered a degree in my program of interest, but also was flexible in adapting the program to fit my needs. As a transfer student, the number of online classes offered meant I had little trouble fitting the select courses I needed into my schedule. Small class sizes gave greater accessibility to professors and allowed for relationships to be built. Furthermore, MGA offered great tuition and housing prices which made the financial burden of pursuing a higher education much less."
The greatest thing she discovered about Middle Georgia State was … "The sense of community. I believe the school does a great job of setting up social events, which gives students a chance to get connected with others. I believe MGA faculty and staff also do a great job of making themselves accessible to students. If I ever needed help or had concerns, professors and staff were always quick to respond."
Her greatest academic experience as a Middle Georgia State student was … "The knowledge I gained as an undergraduate researcher. I collaborated with one of my professors, Dr. Hinze, on a study concerning mental health stigma. I was able to amass much experience conducting research over the two experiments I was able to devise and execute to gain information on this topic.
"During my time as an undergraduate researcher, I was responsible for examining current research articles relating to our topic of interest, which I used to formulate new hypotheses and experiments to test them. I wrote proposals to the Institutional Review Board and ensured our experiments met ethical standards. I recruited participants, both in person and online, and later led the experiments. I also compiled data and ran statistical analyses, which I used to build conclusions about what we learned from our study and determine how they may be applied to real world settings or used for future research. I had the opportunity to present our findings at the Georgia Undergraduate Research Conference (GURC) this academic year. I completed my oral presentation on November, 5, 2021."
To her, greatness means … "Setting goals for yourself and creating a path in order to achieve them. Greatness can look different for each person, as everyone leads a different life and has their own dreams and aspirations. I think we obtain greatness when we continue to put in work to reach our goals, even when we are presented with obstacles."
In five years … "I see myself continuing my education. In two years, I will have graduated with my master's in psychology with a pre-clinical concentration. While working on my master's, I will have also gained hand-on experience as an intern at a nearby clinic. Afterwards, I will apply for and hopefully get accepted into a Ph.D. program in clinical psychology. In five years I will be well into the program and on my way to graduation."