Finding Greatness: Sandra Hernandez
Author: News Bureau
Posted: Monday, September 26, 2022 12:00 AM
Categories: School of Arts and Letters | Students | Pressroom | Finding Greatness
---
Macon, GA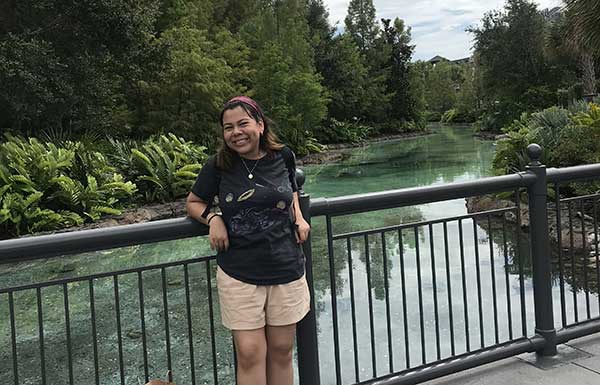 Media and Communication major Sandra Hernandez is editor of The Statement, MGA's digital student newspaper, and an intern with Mercer ESPN.
Full Name: Sandra M. Hernandez.
Age: 20.
Hometown: Warner Robins.
High School: Northside High School.
Family: Laura Hernandez (mom); Oscar Hernandez (dad); Ricardo Hernandez and Alejandro Hernandez (brothers).
Employment: Full-time student.
Degree Objective: Bachelor of Arts in Media and Communication.
Class Rank: Junior.
Primary Campus: Macon
Activities: Editor-in-chief for the student newspaper The Statement and currently an intern at Mercer ESPN.
Career Goals: "I am aiming to be an investigative journalist one day and work for a magazine or newspaper. I want to report on politics and crime and help make people more aware of the things that are occurring in our daily lives."
She chose Middle Georgia State because … "I graduated high school at the beginning of the pandemic, so I wanted to be closer to family. MGA was close and affordable and so the best option for me."
The greatest thing I discovered about Middle Georgia State was … "How friendly and supportive people are. I've interviewed many staff members who work behind the scenes at MGA events  and they've all made the time to talk to me and provide me with so much information, which makes my articles stand out. I've also discovered the many great professors, including Dr. Nicholson and Dr. Palmer. I've made friends here and taken classes with people who have made my college experience fun and eventful."
Her greatest academic experience as a Middle Georgia State student has been … "Making the Dean's List my freshman year and working up to President's List my sophomore year. I've also made a presentation at the Undergraduate Research Conference, which was the highlight of my sophomore year because it gave me the opportunity to work on my public speaking and talk about something that I'm passionate about. The most recent academic experience I've had is being promoted to editor-in-chief at The Statement. I'm excited to take on this role."
To her, greatness means … "Being happy and having good mental health. If you're doing something that makes you happy, then that's greatness to me."
In five years … "I hope to be traveling, meeting new people, and writing and sharing diverse stories. I plan to pursue a master's degree in journalism, which will hopefully one day lead me to work for a major news organization like CNN or The New York Times. I hope to be in a good place mentally and physically and having my 'I made it' moment. I want to make my family proud."