Freedom of Speech, Expression, & Assembly
Middle Georgia State University (MGA) respects and honors the rights guaranteed by the First Amendment, including the right to free speech, free expression, free exercise of religion, and the right to assemble peaceably. The University abides by Board of Regents Policy on Freedom of Expression. MGA agrees with the University System of Georgia that these rights are of the utmost importance and are likewise committed to protecting those rights. MGA recognizes its responsibility to provide a secure learning environment that allows individuals enrolled at or employed by MGA to express their views in ways that do not disrupt the operation of the University.
See MGA's Freedom of Expression Policy
To better facilitate the free exchange of ideas, MGA has designated highly visible locations as public forums on each of MGA's campuses. These areas are described in the MGA Freedom of Expression Policy depicted and outlined on the current public forum maps.
The designation of the public forum areas does not apply to University-sponsored activities nor does it prohibit members of the MGA community from engaging in expressive activities elsewhere in an open outdoor space. The designated public forums establish certain outdoor areas of MGA's campuses to potentially be reserved in one of the following limited circumstances:
members of the MGA community who plan an event with 30 or more persons
individuals or groups who are not members of the MGA community who wish to speak on MGA's campuses.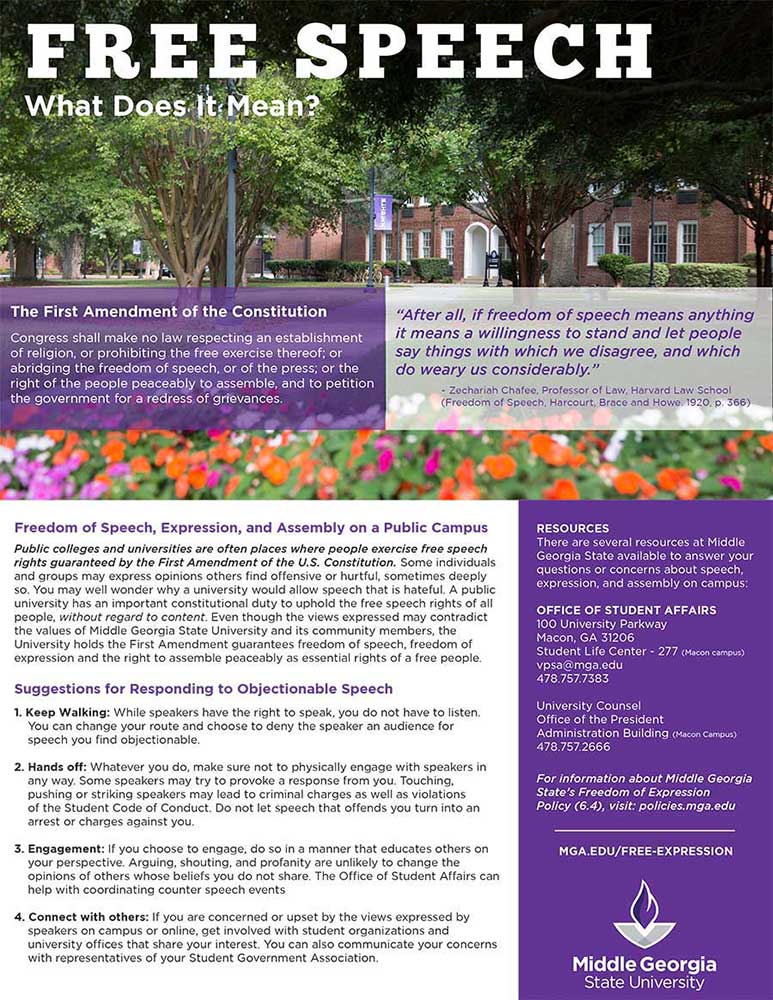 Click for PDF version