Finding Greatness: Symone Caldwell
Author: News Bureau
Posted: Thursday, April 21, 2022 12:00 AM
Categories: School of Education and Behavioral Sciences | Finding Greatness | Honors/Awards | Students | Pressroom
---
Cochran, GA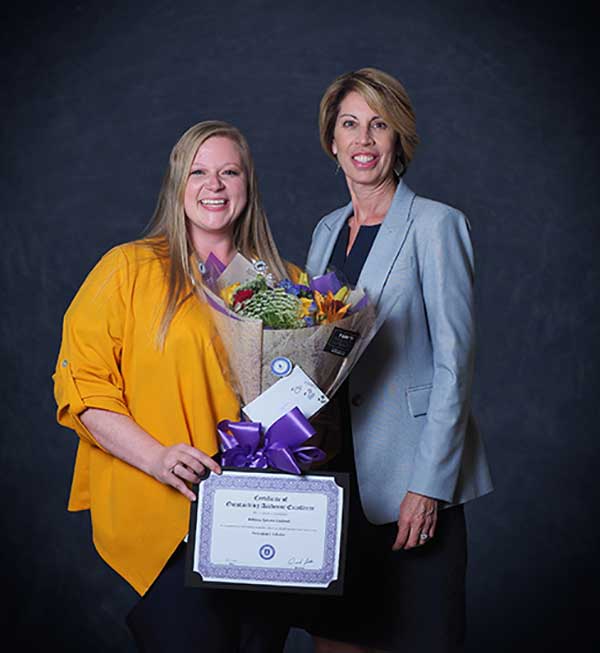 Symone Caldwell is MGA's President's Scholar for the Class of 2022. An education major, she is a special education intern at Bleckley County Elementary School and will begin her full-time career in her hometown this fall.
Full Name: Rebecca "Symone" Caldwell.
Age: 31.
Hometown & Residence: Eastman.
Family: "I have two small children. My son, Dakodah (Kodah), is almost 8 years old. He has helped drive my passion and advocating for children with exceptionalities. My daughter, Hayven, is almost 5 years old. She has taught me patience and how easily young children follow in our footsteps. Thus, we ensure we teach them we can always look towards the future, work towards our goals and dreams, and make a difference in the world." 
Employment: "I currently work as a special education teacher Intern at Bleckley County Elementary." 
Degree Objective: Bachelor of Science in Elementary/Special Education with a reading endorsement. She is graduating with honors and is the recipient of the Outstanding Academic Excellence and President's Scholar awards.
Class Rank: Senior.
Primary Campus: Cochran.
Activities: Peer mentor in the Peer Mentorship Program for the teacher preparation program; active member of the National Society Leadership and Success organization; guest speaker at the Georgia Council Teacher of Mathematics Conference in 2021; speaker at MGA's 2021 Undergraduate Conference; guest reader at primary schools.
Career Goals: "My career goal is to be an educator. I have always wanted to be a teacher since I was a little girl. I am the eldest child of nine children, and I remember acting as a teacher as they took on the role of students. My fourth-grade teacher also had an impact on me. I remember during that time of my life I was dealing with my parents' separation. She noticed a change in me; she worked to motivate me and support me not only academically, as I was a student that struggled, but also emotionally. The bond she created was never forgotten.
"I want to always build relationships to support students. I want to practice a growth mindset within the classrooms and teach students self-efficacy and how to use their talents to be leaders."
She chose Middle Georgia State University because … "Because of the environment. The setting of the University creates a welcoming atmosphere. Even though I was a non-traditional student that lived off campus, I always felt comfortable and accepted. I also chose MGA because of the high-quality education with affordable rates. As a mother of two children, the college was easily accessible with a financial aid department willing to guide you. The University also supported students with free tutoring, professional development sponsored by clubs and organizations, and support after graduation - something I felt could increase my academic success."
The greatest thing she discovered about Middle Georgia State was … "The relationships that were created with peers. I have met so many new people through my core classes, in my current cohort as a teacher candidate, and through the Peer Mentorship program. It has allowed me to experience peer support, network, learn more about cultures from all walks of life, and build lasting bonds." 
Her greatest academic experience as a Middle Georgia State student has been … "Throughout my college career, I was academically challenged to increase my conceptual understanding while continuously receiving motivation and support from my professors and faculty.  It was one of the greatest things I discovered about MGA because the combination of support and increase in knowledge allowed me to grow as a future educator to better support my future students. 
"I also had a wonderful experience with the Peer Mentorship program. I was given the opportunity to support freshmen and sophomores as they seek acceptance into the teacher preparation program. I supported the need to provide my peers with guidance by assisting with personal experience. The Peer Mentorship program sought to support students not only academically but emotionally. It was a need the program identified and sought to accomplish to support all educational journeys for future teacher candidates.
"Another great experience includes the increase in self-efficacy I experienced.  When I first began my college career, I struggled with the Accuplacer Assessment (previously called the Compass Test) and did not score high enough on the mathematics portion multiple times. I felt I could not understand mathematics and was destined for failure. However, years later, I reapplied to MGA and began studying for the Accuplacer Assessment (mathematics portion). I achieved my first goal; I passed the mathematics portion. My self-belief began to rise each semester as I worked diligently. Not only was I placed on the President's List each semester, but I also will be graduating with honors as well as with the Outstanding Academic Excellence for the teacher education program, and the President's Scholar award.  We are all capable of learning, even if others tell us or we tell ourselves we are not."
To her, greatness means … "The ability to rise above obstacles with grit, determination, integrity, and perseverance. It does not always mean we reach our destination in perfection. If greatness is within us, then we are no longer afraid of mistakes. Instead, we embrace mistakes; when we can humanize ourselves, we are capable of learning from a moment's error and seeking to find self-actualization. Greatness is knowing that we can all be leaders of the future and seek to change the world; we only have to 'find the greatness' within ourselves and set no limitations on our self-belief. 
In five years … "I will have begun my teaching career in Dodge County but also furthered my own learning as I seek to apply to and complete graduate school. I also intend to continue my personal goals to support students on their academic journey. I want to always build relationships to support students. I want to practice a growth mindset within the classrooms and teach students self-efficacy and how to use their talents to be leaders. I also plan to enjoy the little moments with my two children. They were my strongest motivation."