What To Bring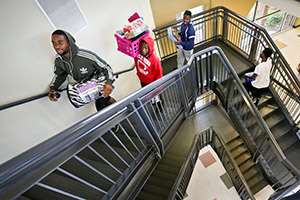 All of the residence halls are fully furnished. Refer to the housing section and click on the hall assigned to you to see the layout and style. Please contact the Office of Residence Life for any questions or concerns you have.
MGA assumes no financial responsibility for the loss to, or damage to personal belongings. Nor is the university liable for damages of an appliance, due to power failure or any other occurrence. It is strongly encouraged that parents extend their household insurance for the security of students' personal property. Loss by fire, theft, or damage is the responsibility of the student. For options in purchasing individual renter's insurance, please speak with the Office of Residence Life.

The Essentials
Closet and Laundry
Clothes for the appropriate seasons
Hangers
Hamper
Landry and Cleaning Supplies
Landry basket
Detergent
Residence Hall room space
Cochran and Eastman residence halls have Twin XL sized beds (36"- 39" X 75" - 80"). Buy the longest single bed sheet you can find.
University Pointe in Macon has Full sized beds (54" X 75")
Lakeview Pointe in Macon has Twin XL sized beds (36"- 39" X 75" - 80")
Sheets and pillowcases
Comforter/Blankets
Mattress cover/pad
Pillows
Personal décor
Alarm Clock
Computer/Laptop/Tablet
Printer and connecting cords
Notebooks, pens, pencils, and book bag
Energy efficient surge protector
Desk lamp and light bulbs
UL approved lights
TV and DVD player
Game Console
Ipod/stereo/radio
Mobile cell and charger
Swiffer and broom
Energy Efficient appliances:
Small fan
Couches (no larger than a futon)
Refrigerator (max 2.7 cubic feet and 5 amps)
Microwave (maximum 1.0 cubic foot)
*Air fryer (under 1200 watts or 10 amps)
* Starting Fall 2021 - Air fryers (under 1200 watts or 10 amps) are only allowed in the apartment-style buildings (Aviation Hall, Harris Hall, and University Pointe). The appliances must be approved by the RLC's in these buildings.
Bath
Rooms with a private bath need a shower curtain and bath mat.
Bathrobe and waterproof sandals
Towels, washcloths, and hand towel
Shower caddy
Soap and hair care products
Toiletries
Wastebasket
Plunger and toilet brush
Dishware
Cookware will be needed for full kitchenettes. Arrange this with your roommates.
Plates, Bowls, and Utensils
Water bottle
Recommended
First Aid Kit
Flashlight
Batteries
Transportation
Bike and bike lock
Bike helmet
Bike lights and reflectors
Reusable bag for shopping
Snack foods
Dry erase/white board
Daily planner
Calendar
Umbrella/Rain gear
Business Attire
Dehumidifier or air purifier (if allergies are an issue)
Prohibited
Candles, incense
Extension cords
Anything with an open or exposed heating element (such as grills, George Foremans, table top grills, toasters, toaster ovens, etc.)
Heaters
Hoverboards
Fishnets
Parachutes
Flammable items
Offensive decor
Uncared for holiday decor
Poor housekeeping
Trash and empty glass bottles
Pets (starting Fall 2022, students may have a non-flesh eating fish in a freshwater tank up to 5 gallons)
No guns, ammunition, or weapons: this includes knives, and swords
Paint guns, darts, and bb guns
Power tools
Fireworks or explosives
Ethernet hubs
Any appliance exceeding 1200 watts or 10 amps
Bongs, hookahs, pipes, and other drug paraphernalia
Cigarettes, lighters, electronic cigarettes, and tobacco products