State of the University 2023: MGA President Highlights Positive Enrollment Signs, New Degrees, Campus Evolutions, & More
Author: News Bureau
Posted: Monday, January 30, 2023 12:00 AM
Category: Pressroom
---
Dublin, GA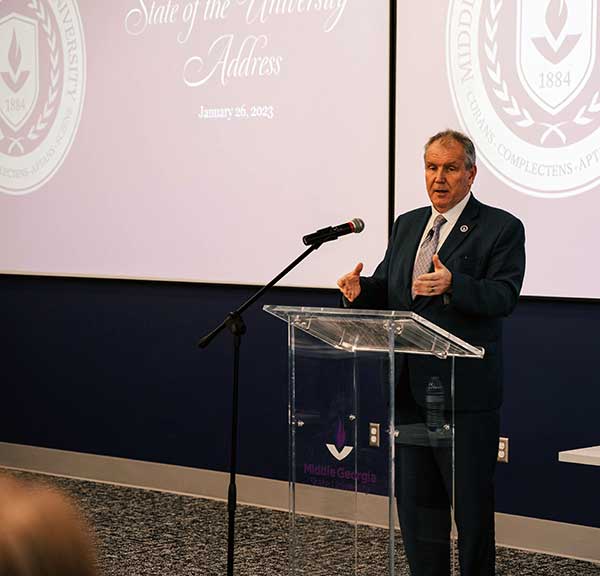 In an era when many U.S. institutions of higher education are grappling with uncertain futures, Middle Georgia State (MGA) is poised for growth, President Christopher Blake, Ph.D., said in his 2023 State of the University address.  
The president, who presented his address from the Dublin Campus's newly renovated Karen L. Core Classroom on Thursday, Jan. 26, focused on four areas: MGA's vital signs and statistics; the University's strategic roadmap; the "greatness" in achievements of students, faculty, and staff; and the importance of engaging and collaborating with communities and people the institution serves.
In the area of vital signs and statistics, Blake acknowledged that MGA's current enrollment is slightly down from a year ago but the decline slowed compared to semesters earlier in the pandemic. Signs are good that the coming summer and fall enrollment will return to pre-pandemic levels, he said.
"I can say today our vital signs are good," Blake said. "We're healthier than we were at the beginning of the pandemic, but we have to keep going."
He noted that fall 2022 new undergraduate enrollment is up nearly 15 percent over last year, and new students pursuing graduate programs (master's level and above) increased 63 percent. MGA's goal for fall 2023 is to grow enrollment to a total of 8,000 undergraduate and graduate students.
Blake pointed out the University System of Georgia's Board of Regents and Chancellor Sonny Perdue's strong support of MGA, most recently demonstrated by the approval of the University's new associate's and bachelor's degrees in computer science. Those programs will be based on the Warner Robins Campus to support Robins Air Force Base and other employers of computer science specialists.
On strategy, Blake stressed the need for the ongoing effective use of data and dashboards to help students be successful and move the University forward.
"We need to be unequivocally clear about measuring our performance," he said, and quickly and effectively address underperformance in any area. "The public has a right to know that their investment (in MGA) is worth it. We have a good story to tell, and let's make sure we use data to tell that story."
On the University's "greatness," Blake noted that the word is more than a tagline. Greatness is expressed in concrete results, such as MGA graduated more students in the past year than ever before. This spring, he noted, MGA will graduate the charter class of students enrolled in the University's first doctorate, the Doctor of Science in IT.
"We're changing lives and, therefore, communities with our work," Blake said.
In the area of engagement and collaboration, Blake renewed his call to enhance the on-campus experiences of undergraduate students while balancing the needs of adult students and those in graduate programs who are effectively served through online classes and degrees.
"We need to be a haven for undergraduate students," he said, "where they can come and learn and connect to one another."
Each of MGA's five campuses plays a critical role in community engagement, Blake said.
The Macon Campus's facilities, including the expanding Georgia Premier cross-country course, is supporting Macon-Bibb's growing tourism economy by hosting special events that draw visitors from around the state, he noted. MGA is proposing athletics enhancements, which should create a more vibrant Cochran Campus and better engage that community. Eastman, MGA's aviation campus, is on the verge of potential expansion to produce more pilots and other aviation professionals for one of Georgia's largest industries. On the Dublin Campus, more than $6 million in renovations have transformed that location into a healthcare degree hub. And the Warner Robins Campus is being shaped into an innovative STEM center for various student populations, including dual-enrolled high school students.
"We are at a good place," Blake said. "Middle Georgia State University has never been stronger, but we need to put our shoulder to the wheel to get it to an even higher level. That's what we're called to do. Our work is not a one-time effort, it's not a one-year cycle. It's a vision of change."
This was Blake's 10th "State of the University" address since becoming MGA's president in 2013. The address is available in its entirety here.