Faculty Q&A: Why Is "Barbie" Such A Cultural Phenomenon?
Author: News Bureau
Posted: Thursday, July 27, 2023 12:00 AM
Categories: Pressroom | Faculty/Staff | School of Arts and Letters
---
Macon, GA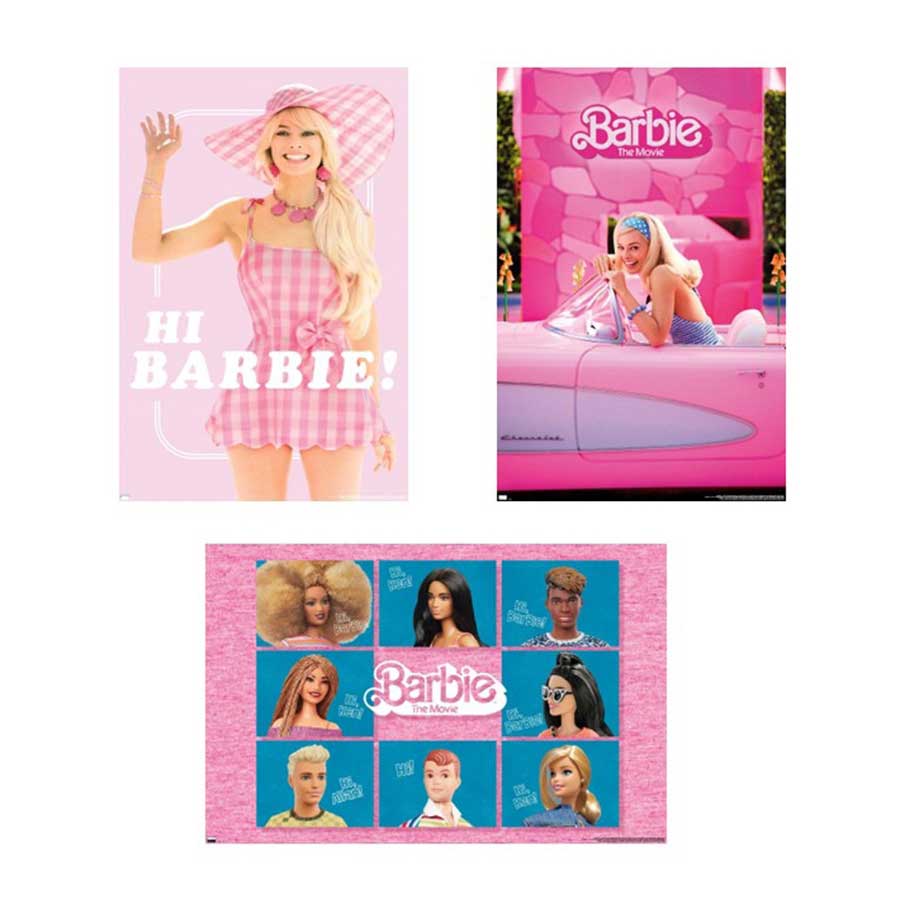 Barbie is having a moment. A movie based on the iconic doll raked in $337 million its opening weekend. We asked #MGA's Dr. Susan Asbury, an assistant professor of history who was once, believe it or not, associate curator of Modern Dolls (Barbie to the present) for The Strong National Museum of Play in Rochester, N.Y., to discuss the cultural phenomenon of the Mattel company's Barbie line of dolls and accessories.
Barbie has been a cultural icon for decades. Could you briefly explain her origin and the historical context of her creation?
In March 1959, the toy company Mattel introduced Barbara Millicent Roberts, "Barbie," to the world at the American International Toy Fair in NYC. Ruth Handler, who co-founded Mattel with her husband Elliot, was largely responsible for the concept of the doll. Handler noticed a lack of dolls beyond baby and toddler dolls and watched her daughter and her friends play with paper dolls in aspirational ways. While on a family trip to Europe in the late 1950s, Ruth Handler came across a Bild Lilli doll, an adult-looking novelty doll fashioned in the likeness of a popular German cartoon character. She bought the doll, brought it home, and redesigned it into Barbie, named after the Handlers' daughter, Barbara. A designer named Jack Ryan helped Handler with some of the design and applied for several of the patents that would be featured as part of the doll (for example, Barbie's bendable legs). Sales for the doll were sluggish at first, but Mattel advertised Barbie on a popular TV show, The Mickey Mouse Club. The doll became a hit! Barbie is largely credited as being one of the first fashion dolls, and she transformed the doll industry. Mattel has been quite savvy in expanding the Barbie empire. From the beginning, doll clothing could be purchased separate from the doll, making Mattel one the largest apparel manufacturers in the world. Over the years, Mattel expanded the Barbie line to include friends (her boyfriend Ken was introduced in 1961), family, pets (she's had over 50), and playsets. Barbie has also starred in animated movies and video games.
Over the years, Barbie has undergone numerous transformations, reflecting changing societal norms and aspirations. What does this evolution tell us about the changing attitudes towards femininity and women's roles?
For adults, particularly mothers buying the doll for their children, Barbie's popularity has waxed and waned over the years. Generally speaking, Mattel has always been fairly quick to "read the room" and pick up on cultural shifts. While Barbie was initially marketed as a teenage fashion doll, Mattel saw opportunity in expanding Barbie, and her wardrobe, in career-focused, aspirational ways. In the early 1960s, Barbie could be a nurse or a fashion designer, but by 1965 Mattel had introduced Miss Astronaut Barbie, a nod to both the Women's Movement and the Space Age. To date, she has had well over 200 careers from paleontologist to CEO to NASCAR driver, reflecting women's many roles in the workforce. She has served in most branches of the military and has made seven bids for U.S. president (I am sure she is gearing up for her eighth bid in 2024). Barbie has been shattering the glass ceiling for decades.
Some critics argue that Barbie perpetuates unrealistic beauty standards and may have a negative impact on young girls' self-image. How do you view this criticism?
It's true that Barbie has sparked controversy from the beginning. While she was popular as a new type of doll in the 1960s, by the 1970s there were parents who would specifically write "no Barbie dolls" on birthday party invitations. Critics have argued the doll is too sexualized and portrays unrealistic body measurements, which could have detrimental effects on girls' physical and mental health. Later controversies with Barbie have been with some of the editions Mattel released and then had to recall or modify (perhaps they didn't read the zeitgeist the way they thought they did). For example, one Barbie that caused controversy was the 1992 Teen Talk Barbie, which ignited fury among various women advocacy groups because Barbie said, "Math class is tough." A Barbie Liberation Organization (BLO) formed, and in 1993, swapped several hundred voice boxes of the Teen Talk dolls with that of a talking G.I. Joe. Mattel later modified the doll to replace that phrase. Overall, however, sales number indicate a different story. Barbie is one of the best-selling dolls in history. Over one billion dolls have been sold since the doll's debut in 1959, and 90% of American girls own one. My take on the criticism around Barbie is that Barbie sparks imaginative play. I understand both sides of the viewpoints on her, however. I certainly recognize the power of play to shape children's ideals and how they see themselves in the world. But play is also multi-faceted. Children play with toys in both prescribed and unprescribed ways, so while some children may see Barbie as a goal-oriented, fashion conscious, and independent woman, other children may not connect with her for a variety of reasons.
On the other hand, Barbie has also been celebrated for promoting diversity and inclusivity with the introduction of dolls with various body types, ethnicities, and professions. How has this diversification influenced Barbie's relevance in the 21st century?
Mattel, like other doll companies, was slow to diversify its product line. While the company did introduce Barbie's first African American friend, Christie, in 1968, Mattel did not really start to racially and ethnically diversify Barbie until the 1980s. The first Black and Hispanic Barbies were introduced in 1980. In the last two decades of the twentieth century, Mattel launched a wide array of Barbie dolls, from the Dolls of the World series to Share-a-Smile Becky, a doll in a wheel chair. Since the turn of the twenty-first century, Mattel has continued to be ever more inclusive by manufacturing Barbie dolls with new body types (curvy, petite, and tall) and attempting to further empower girls by introducing new Barbies in the likeness of Katherine Johnson, Ibtihaj Muhammad, and Naomi Osaka. Following the launch of Barbie's 1980s logo "We Girls Can Do Anything," Mattel has made a concerted effort and commitment to creating Barbies that represent all girls.
Looking ahead, how do you see Barbie's role in pop culture evolving, and what challenges and opportunities lie ahead for the iconic doll?
Mattel has been savvy at picking up on the nostalgic factor with Barbie, which I believe will continue. For example, the annual Barbie Conventions, launched in the early 1980s, cater more to adults than to children. Collectors' series such as the Holiday Barbie (launched in 1988) and Barbie dolls dressed in haute couture designed by the likes of Vera Wang and Bob Mackie also highlight the intergenerational connection the dolls have. Barbie is active on social media platforms, and Mattel has launched video games to keep the doll alive within the electronic game industry. Before this latest film, she even starred in her own animated movies. I am guessing Mattel will continue to find ways for Barbie to be part of whatever new technologies emerge. Like other toy and doll companies, however, Mattel faces age-compression challenges. Children used to play with dolls into their tween years or longer; over the last few decades, the average age has declined to around eight as other toys, such as electronic games, have taken the place of dolls for older children. This change has forced toy companies to market dolls to younger children. Barbie: The Movie will no doubt provide a boost in Barbie sales, both through movie revenues and brand licensing for related products. I am confident we haven't seen the last of Barbie.
So, have you seen the movie?

As of today, I have not. I have been busy wrapping up my summer class and finishing a writing project. But, as a reward for my summer efforts, a friend and I plan to see the movie this weekend. I can't wait!
Dr. Susan Asbury holds a Ph.D. in American Studies from The Pennsylvania State University at Harrisburg. She completed a B.A. in History at Berry College and an M.A. in Public History at the University of South Carolina. For nearly ten years, Asbury worked in the museum field as a curator, educator, and administrator. From 2003-2009 she was the Associate Curator of Modern Dolls (Barbie to the present) for The Strong National Museum of Play in Rochester, New York. In 2009, for Barbie's fiftieth birthday, she curated Celebrating America's Favorite Doll, an exhibit that examined the impact of Barbie to date. Her other research interests are in material culture, public history, U.S. history, consumerism, the intersections of popular culture and folklore studies, and social history. She is currently working on a book that focuses on the early decades of the American board game industry.
Sources/Further Reading:
Gerber, Robin. Barbie and Ruth: The Story of the World's Most Famous Doll and the Woman Who Created Her. New York, Harper Business, 2010.
Oppenheimer, Jerry. Toy Monster: The Big, Bad World of Mattel. Hoboken, NJ: John Wiley & Sons, Inc., 2009.
Barbiemedia.com Timeline. "Barbie: 60 Inspiring Girls Since 1959." Last accessed, July 26, 2023. http://www.barbiemedia.com/timeline.html#:~:text=In%201965%2C%20Barbie%20went%20galactic,could%20reach%20for%20the%20stars..
Parnett-Dwyer, Michelle. "A Vote for Barbie," The Strong National Museum of Play Blog. Last updated August 19, 2021. https://www.museumofplay.org/blog/a-vote-for-barbie/.
The Strong National Museum of Play, National Toy Hall of Fame. "Barbie." Last accessed, July 26, 2023, https://www.museumofplay.org/toys/barbie/.