MGA's Knights' Table Food Pantry Receives $6,000 Grant from Swipe Out Hunger
Author: Alexandria Brooks
Posted: Tuesday, November 21, 2023 12:00 AM
Category: Pressroom
---
Macon, GA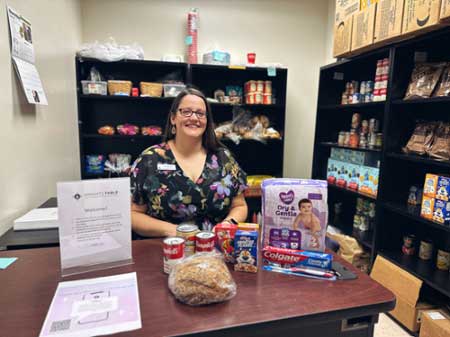 The Middle Georgia State University (MGA) food pantry, Knights' Table, has received a $6,000 grant from Swipe Out Hunger and the Sodexo Stop Hunger Foundation to increase accessibility of the food pantry across all five campuses.
Managed by the Division of Student Affairs and Student Care Case Manager Elaine Martin, the Knights' Table food pantry provides food and personal hygiene products to MGA students, faculty, and staff in need. The organization is dedicated to creating a hunger-free campus by providing access to food, identifying and addressing the causes of food insecurity, and mobilizing resources to combat food insecurity. The Knights' Table is solely donation-based and relies on the support of the MGA community to remain stocked.
"I have been incredibly thankful and moved by the level of giving I have seen from the MGA community," says Elaine Martin, Knights' Table organizer. "Just as our request for food assistance has gone up, so has the level of donations. This fall, we have already surpassed the amount of donations we received during the last academic year. However, our increased need is still outpacing the increase we have seen in donations."
Swipe Out Hunger is a non-profit organization that works to reduce hunger and food insecurity on college campuses across the nation by promoting on-campus solutions, policy and advocacy pathways, and community-building practices to address student hunger. In the spring of 2023, MGA joined the Swipe Out Hunger network as a campus partner.
"Swipe Out Hunger has been an invaluable partner in helping us address food insecurity and hunger on our campuses by providing knowledge and resources to help the Knights' Table identify and address the issues our students have been facing," says Martin. "We are seeing an increased need for food assistance across the country and on our campuses."
According to the Hope Center, 29% of students at four-year institutions are affected by food insecurity and the National Center for Education Statistics found that 23% of undergraduate students are experiencing food insecurity. The Knights' Table has seen an increase in visits and requests for food assistance since 2022.
"Last academic year, the Knights' Table had 90 visits and so far, this academic year, we have had over 141 visits. That is why I'm so excited to receive this grant from Swipe Out Hunger," explains Martin.
The $6,000 Swipe Grant will allow the Knights' Table to increase the accessibility of the food pantry across all five MGA campuses by purchasing smart storage lockers, which will be used as drop-off locations for food bags and personal care items that students can request online through the Knights' Table website.
The Knights' Table currently has two on-campus food pantries on MGA's Macon and Cochran campuses. To increase accessibility of the food pantry to students on the Dublin, Eastman, and Warner Robins campuses, Knight's Table created an online request form in February of 2023 for students to complete in order for a food bag to be pre-packaged and delivered to them. Martin works with students in need to schedule a drop-off time and location. However, scheduling drop-off times and locations has been challenging, as the food pantry often receives multiple requests simultaneously from different campus locations.
"It can be difficult to find a time to meet that works with both the students' and my schedule," says Martin. "The smart storage lockers will allow students to pick up their food bags at a time convenient to them—including after hours. It will also allow me to pre-make food bags and store them in the locker on campuses without a food pantry location for quicker processing time, increasing food access to all of our students and addressing the growing need we have seen."
Those interested in submitting a donation to the Knights' Table can do so in one of three ways: by bringing in physical donations and dropping them in the designated drop boxes on any of MGA's five campuses; purchasing items off the organization's Amazon wish list; or donating to the food pantry fund through the MGA Foundation.
Anyone in need of food assistance can stop by the Knight's Table food pantries from 9 a.m. to 5 p.m. Monday through Thursday at either location in the Macon Campus Student Life Center or Cochran Campus' Welch Hall. Appointments are preferred and can be arranged by contacting Elaine Martin at 478.757.2264 or elaine.martin@mga.edu. Pre-packaged food bags and personal care items can be requested online through the Knights' Table website.