Checklist for Graduates
Be sure to check your status for graduation with your advisor and review Graduation Preparation.
Apply for graduation at least two (2) semesters early.
Official Hashtag for Graduation: #MGAgrad
Share in the excitement by tagging your social media with #MGAgrad.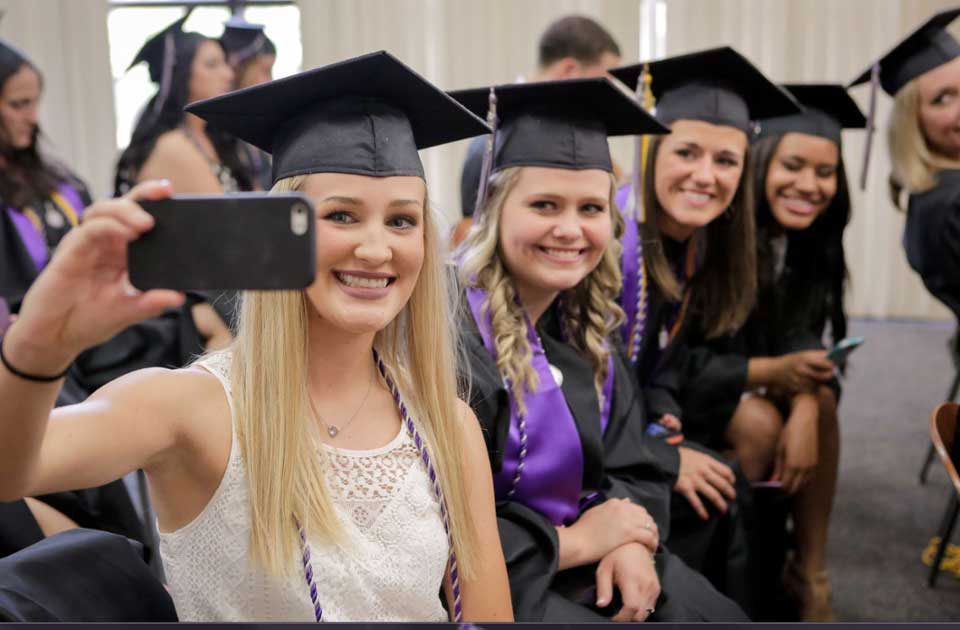 Attend Knights GradFest
Knights GradFest is a one-stop-shop for students who will graduate in May. During Knights GradFest, you can pick up your cap & gown, check your graduation status, order your class ring, purchase graduation announcements, purchase graduation souvenirs,  enjoy complimentary refreshments and much more!
Also, a professional photographer will be on hand to take photos of you in your cap and gown, courtesy of the Campus Store .
Caps and gowns will be available at the Macon Campus Store or our Online Campus Store. Dates will be announced via email, on the Campus Store website and Inside MGA.
Appropriate Dress
Professional attire is appropriate for the ceremony. Preferred attire is dark clothing and shoes.
You will be standing and walking on hard flooring. You are strongly encouraged to wear comfortable shoes. You will be walking approximately half of a mile on various surfaces that may be slick and/or difficult to navigate in heels.
You will be walking on jointed staging. Keep this in mind when selecting shoes.
Submit Photos For The Graduate Slideshow and MGA Social Media Sites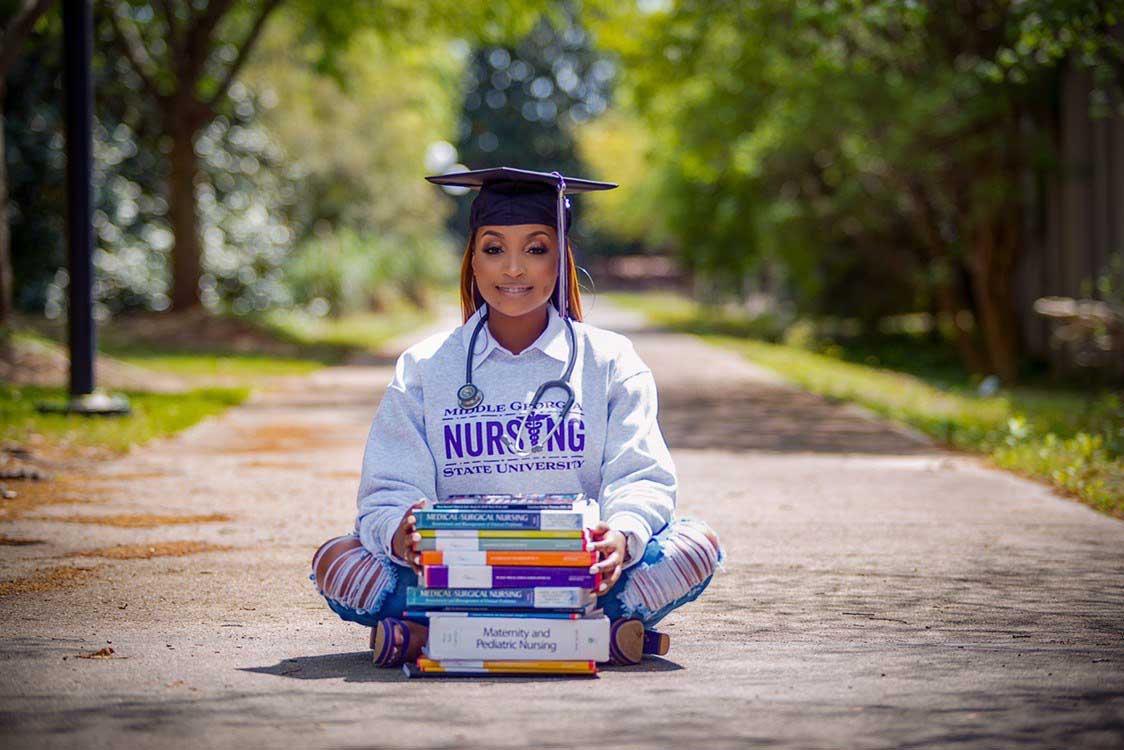 Graduates – help surprise your loved ones by submitting selfies and photos! These can be of you alone or with people who encouraged and inspired you as you journeyed toward completion of your degree. We encourage you to share your images themed toward graduation or academics. If we get a sufficient response, we'll create a slideshow and present it on the big screen as the audience begins to gather prior to the ceremonies. We may also share these images on our social media sites, so please add a note in your subject line if you are only submitting yours for the slideshow. Send photos to marketing@mga.edu.
Subject: Graduation Photos for Slideshow and MGA Social Media 
or
Subject: Graduation Photos for Slideshow ONLY
and
Email body:  Include your full name and major.
Event Location: Macon Recreation and Wellness Center
Macon Wellness Center
100 University Parkway
Macon, GA 31206
Graduates Arrival and Check-In:
For the 9:00 a.m. ceremony, you should plan to arrive no later than 7:00 a.m. Park in the *East Parking Lot.
For the 1:00 p.m. ceremony, you should plan to arrive no later than 11:00 a.m. Park in the *East Parking Lot.
For the 4:00 p.m. ceremony, you should plan to arrive no later than 2:30 p.m. Park in the *East Parking Lot.
Report to the lobby of the Student Life Center on the Macon Campus for directions to your check-in station.
If you have mobility, visual or hearing impairment or if you need any special assistance, please notify the Allen Chastain in the Office of Accessibility Services as soon as possible.
*East Parking Lot is located in front of the Student Life Building.
Line-Up, Processional and Recessional
Faculty marshals will assist you in lining up by degree and in alphabetical order.
Regarding the processional (march in) and recessional (march out), you will follow Faculty Marshals from your academic school in to and out of the arena.
The Ceremony
Be prepared for the ceremony to last approximately 1.5 hours.
You may be photographed/videotaped by local media. Remove your gum before the processional.
Live Stream Ceremonies
Live streaming of the graduation ceremonies will be available for viewing over the Internet from any location in the world. This is an excellent viewing option for family and friends of graduates who are unable to attend graduation. The URL address to the broadcast is www.mga.edu/live.