Finding Greatness: Colleen Moore
Author: News Bureau
Posted: Monday, April 24, 2023 12:00 AM
Categories: Finding Greatness | Pressroom | School of Health and Natural Sciences | Students
---
Cochran, GA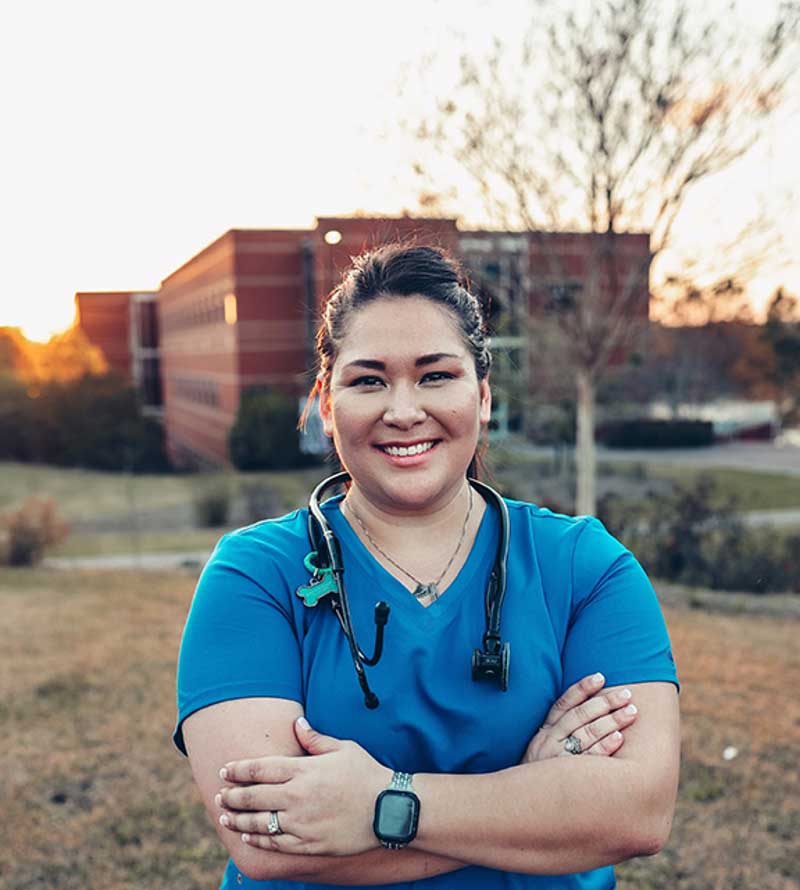 An externship helped nursing major Colleen Moore land a full-time position with Houston Healthcare. Her externship, which in nursing is similar to an internship, was voluntary on her part and enhanced her required clinical experiences. Moore's ultimate goal is to become a flight nurse.
Full Name: Colleen Moore. 
Age: 31. 
Hometown: Yuma, Ariz.  
Current City of Residence: Warner Robins.  
High School: Cibola High School, where she participated in swim, soccer, track, volleyball, NHS, student council, and varsity band.   
Family: Rajeem (husband); Acesen and Reina (children); Roy and Heidi (parents); Jeremiah, Tiffanie, and Victoria (siblings).  
Current Employment: EMT, Houston Healthcare.   
Degree Objective: Associate of Science in Nursing.   
Class Rank: Senior. 
Primary Campus: Cochran.  
Activities: ASN May 2023 cohort class representative, Middle Georgia State Association of Nursing Students, nurse externship  
Career Goals: "My long-term career goal is to be a flight nurse. I have been an EMT for eight years. I love the fast pace and critical-thinking environment. I feel the closest I can experience as a nurse to being in EMS is to become a flight nurse. I have always loved helping people and feel this is a perfect career path for me. After I feel my time as a flight nurse has come to an end, I intend to specialize in becoming a lactation nurse. After having 2 children, I had experienced the ups and downs of being able to breastfeed my children. I want to be able to help new mothers with their breastfeeding or non-breastfeeding journey with their newborns. Once I feel I have become somewhat comfortable in being a nurse, I will further my education to get my master's in education or nurse practitioner."  
She chose Middle Georgia State University because … "I had heard great things about the University. Working in EMS, I work alongside several nurses that have gone through MGA's nursing program. The confidence and knowledge I see from MGA's nursing program graduates are at higher levels of excellence from that I had experienced with nurses across the country. The expectations of the nursing students is set high to push its students to achieve greatness."  
The greatest thing she discovered about Middle Georgia State after she enrolled was … "The opportunities for growth. The University offers associate's, bachelor's, and master's programs in nursing.  Not only does MGA offer room for development, the advisors attached to the nursing programs do their best to assist students with finding financial assistance."  
Her greatest academic experience as a Middle Georgia State student has been … "Working in the clinical setting. I have not always felt strong in the classroom. When I was placed in the clinical setting throughout all four semesters, I felt that was where I truly blossomed. Clinicals and practicum were the place I was able to practice all that was taught. Being able to apply what we learned helped make the classroom instruction 'click' in my head."  
To her, greatness means … "The word 'greatness' will always be subjective to whomever you ask. Everyone's definitions may not be the same. To me personally, greatness means to learn from your successes and your failures. Being great does not mean you always have to win in whatever you may be doing. Being great also means you can take your failures and apply them to your future to prevent making the same mistake or showing others how to not make your same mistake. A great person can do things like help take care of others, volunteer their time to the community in need, etc."  
In five years … "After working in a critical care setting like ICU/ICA or level one trauma center ER, I intend to apply for a flight nurse position. By then, I will also have received my bachelor's degree in nursing."