Finding Greatness: Christina Spradlin
Author: News Bureau
Posted: Wednesday, April 12, 2023 12:00 AM
Categories: School of Arts and Letters | Faculty/Staff | Finding Greatness | Students | Pressroom
---
Macon, GA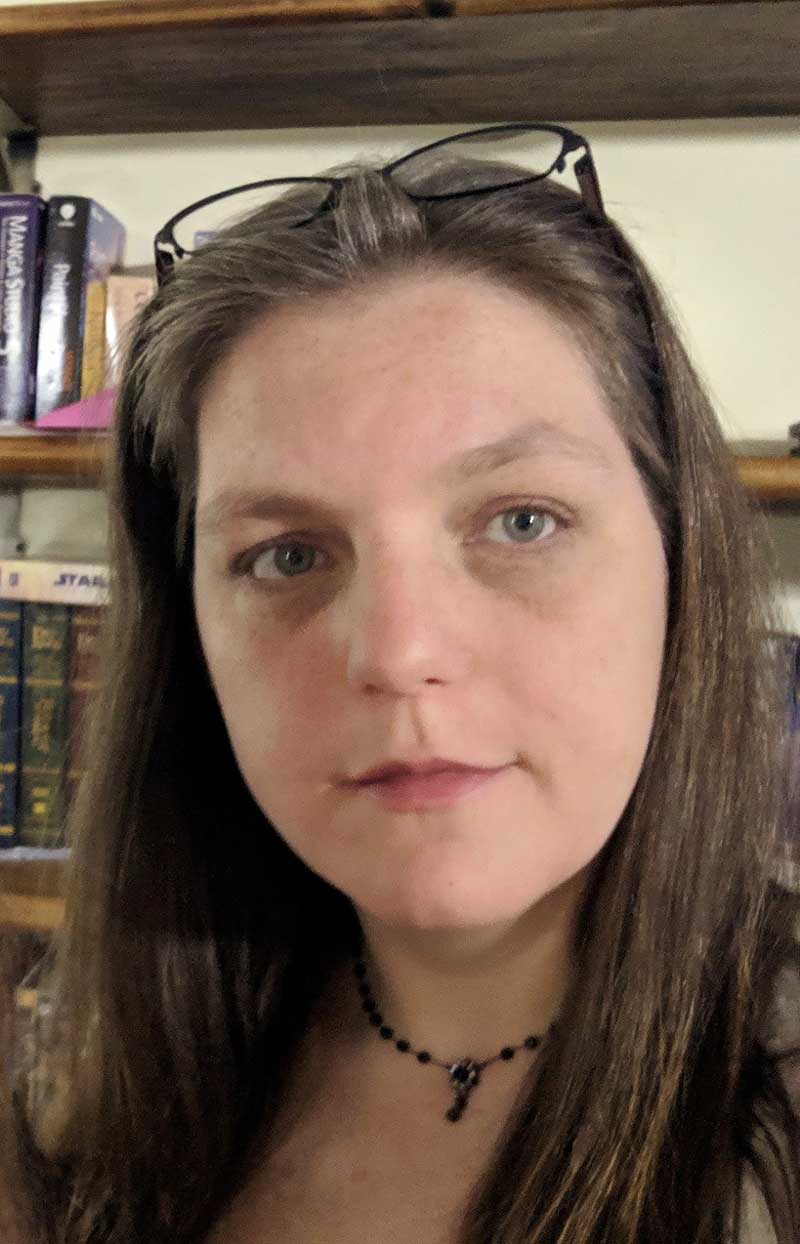 As a CNA, Christina Spradlin enjoyed learning the histories and background stories of her patients. She returned to school at MGA to complete a history degree, with the goal of working in an archive or museum.
Full Name: Christina D. Spradlin.
Age: 43.
Residence: Macon.
Family: Spouse, Frank Spradlin; children, Jenna Spradlin 22, Eli Spradlin 20, Cherokee Lowe 20, Eaden Spradlin 16, and Isaac Spradlin, 15.
Employment: Middle Georgia State University Writing Center.
Degree Objective: Bachelor of Arts in History with a concentration in public history.
Class Rank: Senior.
Primary Campus: Macon.
Activities: "I began in the Writing Center as an intern and then volunteered for two years before I was employed there."
Career Goals: "After earning my CNA in 1998, I realized my favorite part of the job was listening to my patients' stories and histories. Homeschooling my children reinforced my desire to interpret and preserve cultural memory. I returned to school part-time to fulfill the dream in 2016, planning to graduate as my youngest finished high school. After graduation, I hope to enter the field of public history working in a museum or archive."
She chose Middle Georgia State University because … "I own my home in Macon and need to be close to my children. I also felt that enrolling in a fully online program would not meet my educational needs. MGA is not only local but highly recommended by family and friends. While researching local institutions, MGA stood out as a professional university with a respectable staff that cares about the students' success."
The greatest thing she discovered about Middle Georgia State was … "Hearing about the staff and experiencing their compassion and understanding are very different. As a non-traditional student, I expected to be judged and feel out of place, but my experience has been quite the opposite. My professors have strived to achieve their best and work with their students. I have met a wide range of individuals seeking education from every walk of life, and the professors have gone out of their way to ensure our success."
Her greatest academic experience as a Middle Georgia State student has been … "I actually find this question hard to answer; there have been so many. As a history student, I published research in Knighted and presented at the Southern Accents Undergraduate Conference and the 2021 Southeastern Writing Centers Conference. I even had the opportunity to build museum exhibits and create finding aids for the MGA archives. But if I must pick just one, my greatest academic experience has been working in the Writing Center. I grew up in an unstable home and struggled academically, especially with writing. All of my professors have been instrumental in my accomplishments, but Dr. Sharon Colley patiently encouraged me to face my fear of writing. Today, as my mentor in the Writing Center, we work together to help students achieve academic success."
To her, greatness means … "I define greatness by the nobleness of character and the road traveled, not success. Overcoming adversity and failure by persevering to achieve your best despite the obstacles you face leads to greatness. You become a better person by acknowledging and fighting to overcome your weaknesses. The ability to learn and grow and have compassion for others as they face life's challenges demonstrates a strength of character."
In five years … "As an aspiring public historian, I see myself interpreting, preserving, and researching our past while working to educate the public. The field offers endless opportunities in advocacy, archives, education, libraries, marketing, museums, and outreach. I am not sure where I will end up, but I plan to join one of the fields while earning a Master of Arts in Public History."