MGA Announces Spring 2023 Commencement Speakers
Author: News Bureau
Posted: Tuesday, April 25, 2023 12:00 AM
Categories: School of Education and Behavioral Sciences | Pressroom | School of Business | School of Aviation | Students | School of Computing | School of Arts and Letters | School of Health and Natural Sciences
---
Macon, GA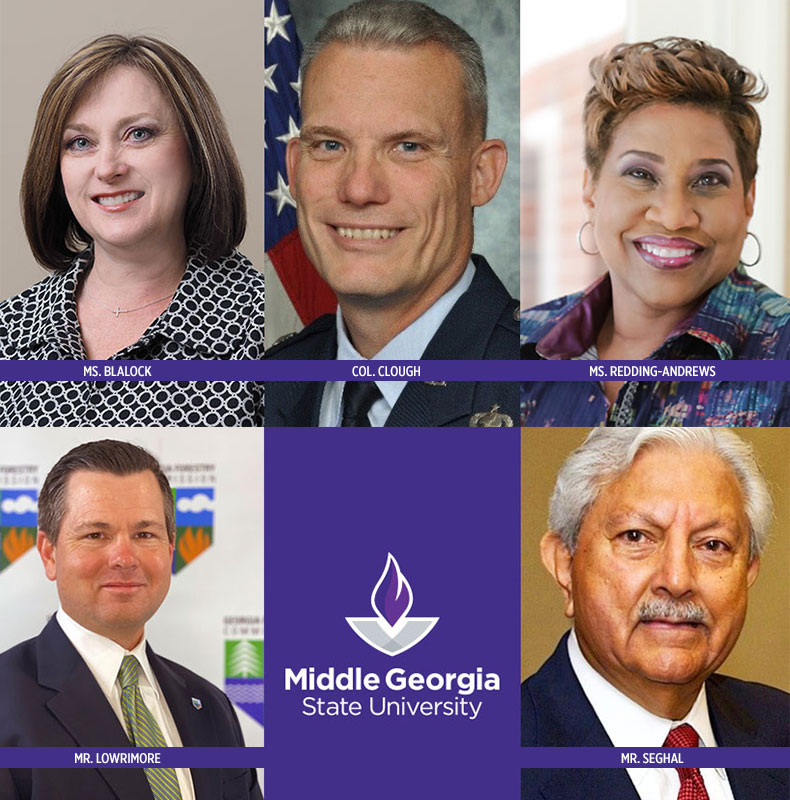 Tracey Blalock – 1 p.m. Wednesday, May 10, ceremony
Tracey Blalock has served as the senior vice president and chief nurse executive of Atrium Health Navicent since 2013. Tracey started her career at Atrium Health Navicent in 1988 as a nurse extern, progressing to a staff nurse position, followed by an extended term as an educator, and then moving into nursing administration.
Blalock has more than 30 years of nursing experience and is a strong, transformational leader who ensures that nursing's goals and initiatives are aligned to advance organizational success. As a member of the senior executive team she is responsible for facilitating the design and implementing the delivery of patient care, recommending strategies to improve services, and ensuring that patients receive holistic, high quality care. At every juncture of her career progression she has demonstrated a compelling ability to coalesce and lead people, manage projects and coordinate team initiatives, while constantly keeping the patient at the center of her work. Tracey is seen by her peers and staff as an advocate, mentor and an innovator.
Blalock has served on the Georgia Board of Nursing as well as many local, state and national committees to further advance nursing practice and healthcare. She holds numerous certifications and is always seeking to learn more.
Col. Brian Clough – 4:30 p.m. Wednesday, May 10, ceremony
Col. Brian Clough arrived at Robins Air Force base in October of 2020 and serves as the deputy director for Engineering and Technical Services. After graduating from high school in his native state of Vermont he began his military career in 1984 as an enlisted computer programmer at Scott Air Force Base, Ill. In 1999, Clough received his B.S. in Computer Engineering from West Virginia University, and in that same year he was commissioned as a second lieutenant.
Clough has held over 15 assignments since that time, including serving as an F-22 avionics engineer at Wright Patterson AFB, Ohio; executive officer and aircraft maintenance officer at Maxwell AFB, Ala.; senior engineer in Washington D.C.; commander of the 333rd Recruiting Squadron at Patrick AFB, Fla.; and just prior to coming to Robins AFB he was the Deputy Chief of Propulsion Sustainment at Tinker AFB, Okla.
Karla Redding-Andrews – 9:30 a.m. Thursday, May 11, ceremony
As vice president/executive director for The Otis Redding Foundation, Karla Redding-Andrews always pauses to remember the contributions her famous father made not only to soul music, but to her own success. It is the philanthropic efforts of her father that is the concentration of her efforts now.

The foundation provides music education opportunities for young people age 12-17. The Otis Redding Center for Creative Arts, located next to the foundation office, provides music lessons after school and every weekend as well as a weekly songwriting workshop, "We Write The Songs." In addition, the annual Otis Music Camp, now in its 11th year, is a two-week project that has produced a number of successful graduates.

Redding-Andrews earned a B.A. from Georgia Southern University in 1985, where she remains an active alum and served on the alumni board. She is vice-chair of the Georgia Music Foundation board, which operates to market and support the continued importance of Georgia music and its legendary musicians under the direction of the Georgia governor. Redding-Andrews also served on the Georgia Film, Music & Digital Entertainment Advisory Commission. She serves on the Robert McDuffie Center for Strings Board of Visitors, which supports the foundation. She is a member of the Leadership Macon Class of 2015 and is the Macon Rotary Club, as well as serving on the boards of the Community Foundation of Central Georgia and Macon's International Cherry Blossom Festival.

In 2016, Redding-Andrews received the Macon Arts Alliance Cultural Award. In 2018, she received the "She Rocks Award" from The Women's International Music Network, where she was honored alongside incredible women in music including Pat Benatar, Melissa Etheridge, and The B-52's Kate Pierson and Cindy Wilson.
Tim Lowrimore – 1 p.m. Thursday, May 11, ceremony
Georgia Gov. Brian Kemp appointed forestry veteran Timothy M. Lowrimore to serve as state forester and director of the Georgia Forestry Commission. Following a swearing-in ceremony on December 21 at the state capitol, Lowrimore assumed his new duties on January 16, 2021.
Lowrimore is a registered forester with the Georgia Board of Foresters, and he has more than 20 years of forestry and professional experience. Prior to his appointment at GFC, he served as public affairs manager for Interfor, one of the largest lumber producers in the world. There, he worked with all levels of government regulatory agencies and community and economic development officials to promote and protect operations and sustainability initiatives. He is a Society of American Foresters fellow, Georgia Forestry Association member, and was chairman of the Georgia Forestry Foundation in 2016. Lowrimore is a University of Georgia (Warnell School of Forestry and Natural Resources) graduate, a UGA Warnell Jay Hole Society member, and a member of UGA's AGHON.
Lowrimore and his wife, Wendi, have two daughters. The family resides in Macon.
R.K. Sehgal – 4:30 p.m. Thursday, May 11, ceremony
Raghbir (R.K.) Sehgal left his native India as a teenager with little money in his pocket. He worked factory jobs in the United Kingdom and eventually moved to the United States. Living in the Deep South in the 1960s, Sehgal experienced discrimination and that redoubled his desire to succeed. He started as a junior engineer at Law Engineering and rose up through the ranks to the top spot. Sehgal became the chairman & CEO of Law Companies, which was one of the largest global engineering firms in the United States with one hundred offices around the world. He later served as CEO of H. J. Russell & Company.
In addition, he served as chairman and commissioner of the Georgia Department of Industry, Trade, and Tourism, and as chairman of Smart Fuel Cell and Primacy International. He has served on many boards including Northside Hospital, The Carter Center Board of Advisors, and First Data's international advisory board. He graduated from Auburn University and is based in Atlanta.