Peyton Anderson Foundation Awards $1.2 Million To MGA To Develop Center For Middle Georgia Studies
Author: News Bureau
Posted: Monday, July 17, 2023 12:00 AM
Categories: School of Health and Natural Sciences | School of Arts and Letters | School of Business | School of Computing | School of Education and Behavioral Sciences | Pressroom | Events- Public | School of Aviation | Faculty/Staff
---
Macon, GA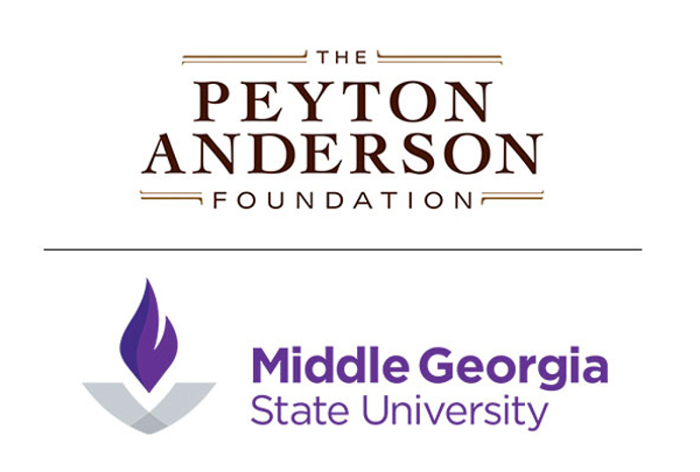 Middle Georgia State University (MGA) will use a newly announced $1.2 million grant from the Peyton Anderson Foundation to help fund an intellectual and creative center designed to take on some of the region's most difficult challenges.  
By leveraging the combined power of community assets and University faculty and staff expertise, the Center for Middle Georgia Studies will aim to address issues related to poverty, workforce demands, and healthcare, among other concerns.  
"We are ecstatic and extremely grateful to the Peyton Anderson Foundation for this major support of our vision to create a regional hub that coordinates efforts of multiple partners to improve the wellbeing of citizens and the community at large," said Christopher Blake, Ph.D., MGA's president. "The expression 'game changer' is sometimes overused, but I think it precisely describes the potential of this undertaking. The center's services will be unique and unlike anything currently available in the region." 
"The vision of the Center for Middle Georgia Studies matches that of our foundation," said Karen Lambert, president of the Peyton Anderson Foundation. "By taking on our most difficult challenges, it will provide game-changing, placed-based solutions to improve the quality of life and prosperity of our region. We look forward to the partnership, collaboration and synergy the center will create in our community. Our grant of $1.2 million demonstrates our confidence that the Center for Middle Georgia Studies will be at the epicenter of education innovating real-world solutions."  
The idea for a Center for Middle Georgia Studies, to be based on MGA's Macon Campus, has been percolating at the University for several years. As planned, the center somewhat models the University of Georgia's Carl Vinson Institute of Government (CVIOG), which provides education, assistance, research, and policy analysis to help public officials better serve the state's citizens. 
"While similar to the CVIOG, the Center for Middle Georgia Studies will provide tailored services to a broader range of partners," Blake said. "We will work with community-based organizations, non-profits, and businesses. Partners will serve as the spokes of this network, extending the University's impact throughout the region." 
The Peyton Anderson Foundation's support of education projects at MGA continues through this grant. The center will offer a range of customized knowledge, resources, services, and expertise, Blake said, that includes access to University faculty, staff, and students, as well as data, technology, and research support. To ensure its work aligns with the needs of the community, the center will draw upon key community assets and resources, including the strategic plans of OneMacon, Forward Macon, and the Middle Georgia Regional Commission.  
Here are some examples of the kind of work the center could do: 
Offer regional simulation training to healthcare professionals and provide health and wellness programs to people under medical care for specific conditions, as well as offer support for their families.

Leverage expertise and talent to meet new workforce demands, such as in cybersecurity, aviation, and within the new Advanced Battle Management System mission at Robins Air Force Base.

Study issues related to poverty and, among other things, offer financial literacy workshops.
MGA projects a startup budget of $5 million to get the center up and running, which will include hiring a director, bringing visiting scholars on board, and appointing faculty fellows and graduate assistants to work on specific projects. The center will conduct original research and host a series of events in support of the mission, including symposiums, training and development, and continuing education.  
About the Peyton Anderson Foundation: 
The Peyton Anderson Foundation serves as a lasting memorial to a man whose goodwill lives on long after his death in 1988. Peyton T. Anderson, Jr., owner in the 1960s and 70s of the Macon Telegraph and the Macon News, was a highly successful businessman, family man, civic leader and philanthropist. In his will, Peyton Anderson assigned the bulk of his estate for charitable purposes to benefit his hometown and region of Macon and Central Georgia. He maintained that the people of Macon, Bibb County and Central Georgia had been good to him and he in turn wished to be good to them. His instructions were, "Reward good doers, not do-gooders." For more information about Peyton Anderson's legacy, the Foundation, and the grant application process, please visit PeytonAnderson.org. 
About Middle Georgia State University:  
Middle Georgia State University – the most affordable state university in the University System of Georgia - serves 7,600+ students on campuses in Macon, Cochran, Dublin, Eastman, and Warner Robins. Students can choose from 65+ areas of study – including information technology, health sciences, media/communication, business, and aviation - that lead to bachelor's degrees. MGA also offers professionally oriented master's degrees, including in IT, professional leadership, public relations, secondary education, nursing, and technical and professional writing, as well as a doctorate in IT. About 20 MGA degrees are offered entirely online. The University is home to Georgia's flagship aviation school – based on the Eastman Campus - and a four-year degree in flight. MGA was created through the merger of Middle Georgia College based in Cochran, Ga., and Macon State College based in Macon, Ga. Middle Georgia College was founded in 1884 while Macon State College was founded in 1968, making MGA a unique combination of the contemporary and traditional in higher education. We commit to four core values: Stewardship, Engagement, Adaptability, and Learning.