StormReady University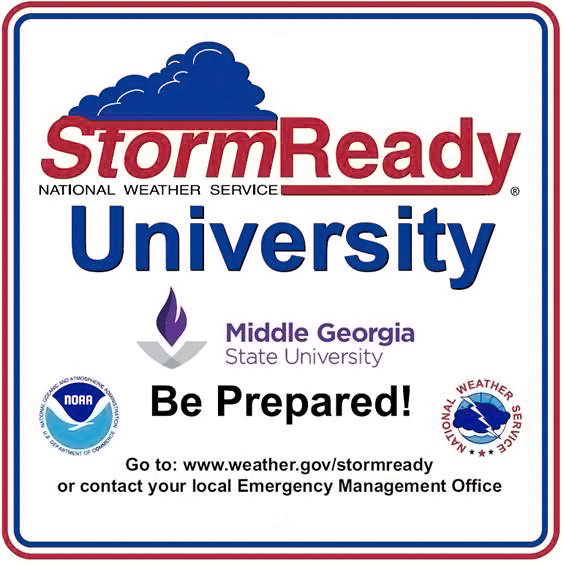 Middle Georgia State University (MGA) is a National Weather Service StormReady University – a special designation indicating that MGA is well-prepared to communicate dangerous and severe weather warnings to its students and employees.
Part of MGA's storm readiness is the Knight Alert system, by which campus communities are sent immediate warnings in the event of life-threatening weather emergencies. Make sure you're set to receive Knight Alerts by updating your contact information in SWORDS and downloading the Guardian app.
About StormReady Certification
StormReady, a National Weather Service program started in 1999 in Tulsa, OK, helps equip America's communities with the communication and safety skills needed to save lives and property. StormReady helps community leaders and emergency managers strengthen local safety programs. StormReady communities are better prepared to save lives from the onslaught of severe weather through advanced planning, education and awareness. No community is storm proof, but StormReady can help communities save lives.
In order to be StormReady, MGA is required to:
Establish a 24-hour warning point and emergency operations center
Have more than one way to receive severe weather warnings and forecasts and to alert the public
Create a system that monitors weather conditions locally
Promote the importance of public readiness through community seminars
Develop a formal hazardous weather plan, which includes training severe weather spotters and holding emergency exercises
External links:
Severe Weather Preparedness
In the event of severe weather, Middle Georgia State University has plans in place to ensure the safety of our campus community. Please read the following to make sure you're prepared for any weather emergencies that may occur.
Notifications
In the event of a weather emergency, the affected campus(es) will be notified via a Knight Alert – text, voice, and email messages alerting you to the situation and advising you of steps to take to ensure your safety. Please visit the Knight Alert page to make sure your contact information is up-to-date and that you are receiving these important messages.
MGA will also make announcements about weather conditions via social media – follow us on Facebook, Twitter, Instagram, and Snapchat (sc: mgastateu) to receive these notices.
Residential Students
Our Residence Life staff has a detailed plan in place to handle weather emergencies, including power outages and evacuations. In the event of a weather emergency, students will be notified via Knight Alert and Residence Life staff members.
Shelter in Place
Use this page to find the shelter-in-place locations for each campus building you spend time in. If you hear a storm warning siren or are advised to shelter in place, head to the shelter location immediately.
Class cancellations
If MGA classes are cancelled for any reason, you will be notified via a Knight Alert, social media alerts will be sent, and local news media will be notified and ask to include that information in news broadcasts. Unless a closure is announced, classes will proceed as scheduled.
However, you are ultimately responsible for your own safety – if you do not feel that you can safely make it to class, do not take unnecessary risks. Contact your instructor and explain the situation.
Weather resources
National Weather Service – forecasts and weather alerts from the NWS:
Weather safety tips from the NWS