Phlebotomy Technician Training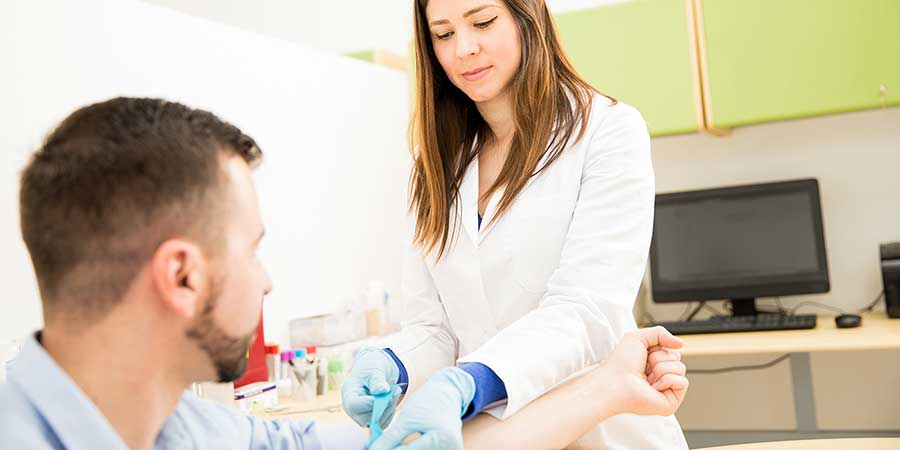 Become a Certified Phlebotomy Technician
Phlebotomy Technicians are essential to proper healthcare worldwide as they are responsible for drawing blood needed for tests, donations, transfusions, and research. As the population ages and diseases spread across the globe, the need for qualified phlebotomists will only increase. This 100% online course will train you to work as a phlebotomy technician and prepare you for the provisional Certified Phlebotomy Technician Specialist (CPTS) exam offered by the American Education Certification Association (AECA). After earning your provisional certification, you will have six months to complete the clinical skills requirements and convert to full certification. This course also provides the opportunity to complete an on-site externship to help you gain the clinical skills needed to earn full certification through the AECA or National Healthcareer Association (NHA).
Job Outlook for Certified Phlebotomy Technician
The US Bureau of Labor Statistics (BLS) forecasts 17% growth in the demand for Phlebotomists between now and 2029, much faster than the average for all occupations.
According to the Bureau of Labor Statistics (BLS), the average Phlebotomy Technician makes over $35,500 with top earners pulling in nearly $50,000 per year.
Certified Phlebotomy Technician FAQs
WHAT DOES A PHLEBOTOMY TECHNICAN DO?
Phlebotomy Technician are responsible for drawing blood needed for tests, donations, transfusions, and research, conducting patient interviews, checking patients' vital signs, and transporting blood samples to the laboratory for testing.
WHERE DO CERTIFIED PHLEBOTOMY TECHNICIANS WORK?
Whether you choose to work in a hospital, medical lab, blood donation center, or doctor's office, phlebotomy technicians perform an essential function our healthcare system by working directly with patients as well as doctors, nurses and other healthcare professionals.
WHY IS THE DEMAND SO HIGH FOR PHLEBOTOMY TECHNICIANS?
According to the BLS, blood analysis remains an essential function in medical laboratories and hospitals. Demand for phlebotomists will remain high as doctors and other healthcare professionals require bloodwork for analysis and diagnosis. In addition to blood analysis, phlebotomists are necessary for blood collection, either at mobile blood centers or dedicated donation centers. These phlebotomists may be especially busy during a health emergency, which can correspond with heightened interest in blood donations.
Course Objectives
Understand what a Phlebotomy Technician does and how to perform on the job.
Work with doctors, nurses and other professionals to provide essential healthcare.
Become eligible to sit for the Certified Phlebotomy Technician Specialist (CPTS) exam through AECA or the Certified Phlebotomy Technician (CPT) exam through the NHA.
Receive job assistance from our Externship Coordinator and access to our Externship Starter Kit.
Opt to work full-time or part-time depending on your needs.
Prerequisites and Requirements
To take this online course, you should have one of the following: High School Diploma, GED or equivalent, entrance test, or previous healthcare experience. To qualify for the certification exam, a High School Diploma or equivalent is required. Please check with your state for any specific requirements they might have before registering.
Curriculum
Introduction to Phlebotomy & Infection Control
Legal Issues in Healthcare
Introduction to Human Anatomy & Physiology
Medical Terminology
Phlebotomy Equipment & Supplies
Phlebotomy Procedures I & II
Phlebotomy Fundamental Essentials
Lab Video's and Exercises
Instructors
Jacqueline Garcia
Jacqueline Garcia is a Certified Postsecondary Professional Instructor (CPPI), specializing in patient care education. Beyond actively training future patient care technicians, she develops academic content and curriculum for a number of programs.
Registration and Enrollment
This course is open enrollment. You can enroll and begin any time.