Angela O'Neal Joins MGA As Registrar
Author: News Bureau
Posted: Thursday, June 22, 2023 12:00 AM
Categories: School of Health and Natural Sciences | Pressroom | School of Business | School of Computing | School of Education and Behavioral Sciences | School of Arts and Letters | School of Aviation | Faculty/Staff
---
Macon, GA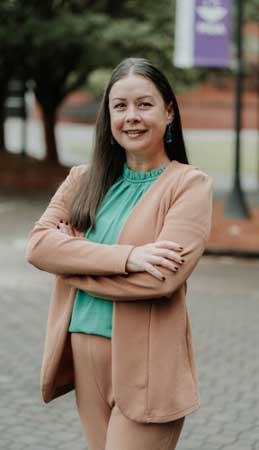 Angela "Angie" O'Neal has joined Middle Georgia State University (MGA) as registrar. She comes to MGA from Wesleyan College, where she also served as registrar for nearly a decade.
In her new role at MGA, O'Neal will lead the
Office of the Registrar
, which includes traditional operations plus the newly established Veteran's and Military Resource Center and International Student Coordinator. She brings her efficiency and vast knowledge of electronic databases, systems, and operations to the University, as she has led similar efforts at Wesleyan as Applicant Record Coordinator (2000-2001), Assistant Registrar (2008-2014), and Registrar (2014-2023). O'Neal also provided enrollment leadership for nursing, online, dual enrollment, and transfer populations while at her previous institution.
"We're excited to welcome Ms. O'Neal to the MGA community," said Dr. Stephen Schultheis, vice president for Enrollment Management. "There is no doubt her experience and knowledge will help us serve our students on their path toward degree completion."
Before beginning her professional career at her alma mater, she received both her Master of Business Administration and Bachelor of Arts in Psychology from Wesleyan College.
In 2017, O'Neal was the recipient of the Professional Access & Equity Scholarship Award from the Georgia Association of Collegiate Registrars and Admissions Officers, where she later earned her certification as a Registered Enrollment Professional in 2018. She also holds certifications in Lean Green Belt from the Institute of Industrial and Systems Engineers and EX for InfoMaker and several Jenzabar modules.
In her free time, you can find O'Neal kayaking, traveling, bowling or gardening. She has a 16-year-old daughter, Rosalyn, who attends Warner Robins High School and is the reigning 2023 Teen Miss Dogwood.