School of Computing Receives Grant from the E.J. Grassman Trust To Support Cybersecurity Education
Author: News Bureau
Posted: Tuesday, October 3, 2023 12:00 AM
Categories: Faculty/Staff | Honors/Awards | Pressroom | School of Computing | Students
---
Macon, GA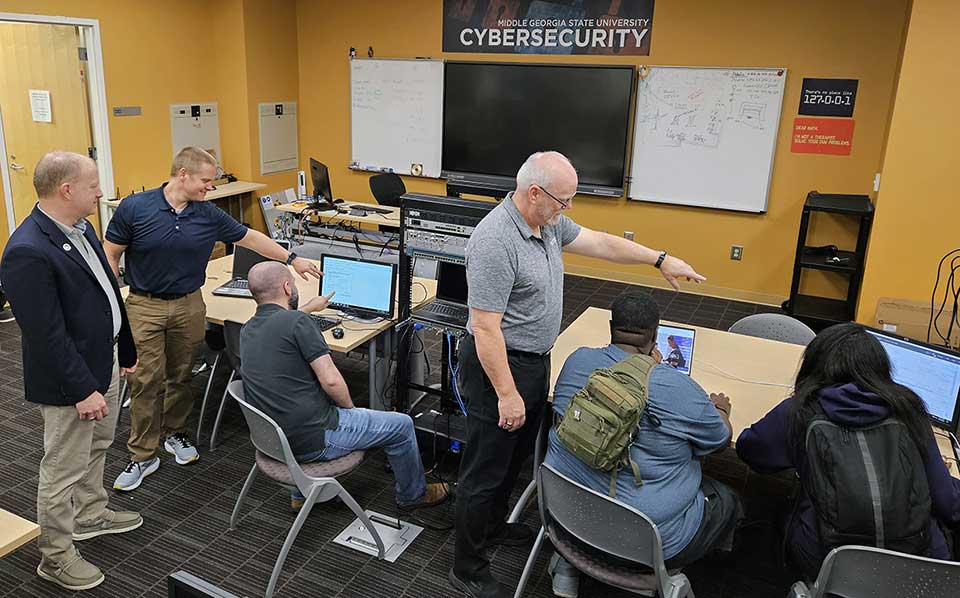 The Middle Georgia State University (MGA) School of Computing recently received a $15,000.00 grant from the E.J. Grassman Trust to purchase equipment for its Cyber Forensics lab. The lab was initially funded as part of the National Science Foundation--grant-funded Southeastern Advanced Cybersecurity Education Consortium (ACE).
With the grant funding, the
School of Computing
has acquired state-of-the-art hardware capable of running essential forensics tools such as "Security Onion" and "Kali Linux," alongside the renowned forensics software, "Autopsy." With the equipment, the School of Computing will be able to offer dynamic and immersive educational experiences, leveraging this equipment and tools to provide specialized courses, summer camps, and training programs in cybersecurity and digital forensics.
Dr. Alan Stines, assistant professor and director for the
Center of Cybersecurity Education and Applied Research
said, "This donation marks a significant milestone in our mission to provide updated and practical cybersecurity and forensics education. With this cutting-edge equipment and tools that can run virtual machines smoothly, we are better positioned to prepare our students for success in vital and ever-changing cybersecurity fields."
"We are thankful for the generous support of the E.J. Grassman Trust and the MGA Foundation for their work in preparing the grant application," said Dr. Kevin Floyd, associate dean of the School of Computing. "There is always a need for state-of-the-art equipment to provide students with hands-on experiences in cyber security. This gift will enable MGA to continue to be a leader in cyber security education,"