Services & Event Information
Services
Scheduling of Meeting Space
The Conference Center staff works with the group's authorized representative to schedule appropriate rooms, equipment and related services to meet the needs of the customer. The Center reserves the right to reassign reserved space to comparable space in order to meet business or daily operational requirements.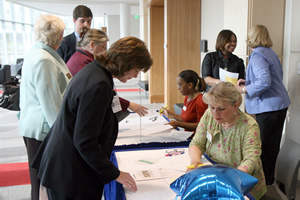 Catering & Dining Information
All food and beverage services must be managed and provided by the conference center's caterer, MGA's Food Service Provider. Catering guarantees are due no later than noon, three days prior to the event. The group will be billed for the guarantee or for the actual number served, whichever is greater.
Technology
The Hatcher Conference Center is equipped with a variety of A-V technology. Basic technology including LCD projectors, projection screens and sound systems is included in the rental. Additional technology, and an on-site Tech Support Representative, is available for a fee.
Wireless Internet
Standard Technology Available
LCD Projectors / Screens
Microphones / Sound Systems
Presentation Software (PowerPoint)
Internet Access
Other Available Technologies
On-site Tech Support
Telephone Conferencing
Video Conferencing
Event Information
Pre-event Shipments / Labor Charges
All shipments must be approved in advance. A labor charge may be assessed for unloading items to storage areas. No shipments will be accepted earlier than 48 hours prior to an event and must be picked up within 48 hours after the event unless prior arrangements are made.
Posters / Signs
Easels can be provided for any posters / signs to be displayed during a meeting. No signs or posters may be pinned or taped to the doors or walls. The placement of organizational banners must be arranged in advance. Tacks, nails or screws cannot be used for any purpose in the center. Directional signs are permitted with prior approval by center staff.
Decorations
No decorations may be hung from the ceiling or placed on walls. All candles must be globed. The use of glitter and confetti is prohibited.