Finding Greatness: Ryan Ashford
Author: News Bureau
Posted: Monday, January 30, 2023 12:00 AM
Categories: School of Computing | Students | Pressroom | Honors/Awards | Finding Greatness
---
Macon, GA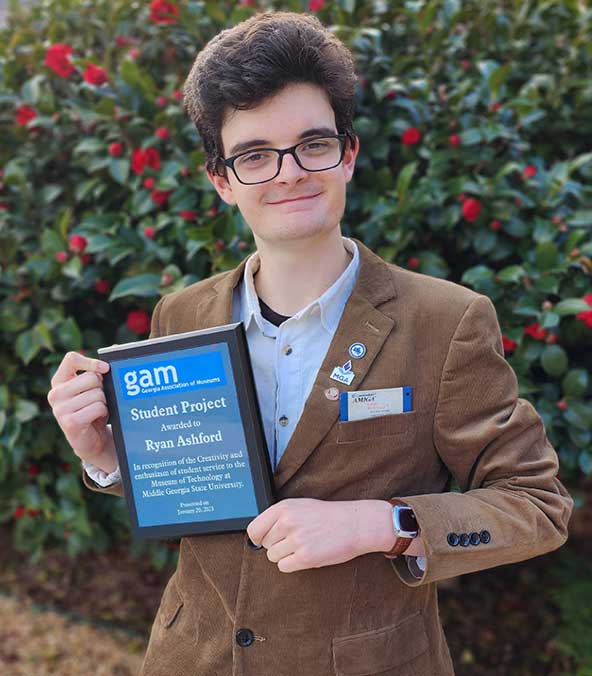 The second youngest student to earn an associate's degree from MGA (he was 16 at the time), Ryan Ashford has since finished his bachelor's and is now, at age 20, a student in the Master of Science in IT program. He is a founder and curator of MGA's Museum of Technology.
Full Name: Ryan Edward Ashford.
Age: 20.
Hometown & Residence: Centerville.
Employment/Career Highlights: Full-time graduate student at MGA, part-time Geek Squad consultant.
Activities: Chief curator and operator of the MGA Museum of Technology (MoT). Ashford recently received the Georgia Association of Museums' 2023 Student Project Award for his work at the museum. The MoT's mission is to preserve important technological artifacts that chronicle digital life and to inspire current and future generations of students, educators and the public by learning lessons from the past.
Degree Objective: Master of Science in Information Technology.
Other Degrees: Associate's and bachelor's in IT from MGA.
He chose Middle Georgia State University for graduate school because … "I've been tinkering with electronics at home from an early age and like to solve problems. The field of IT seems to offer the perfect combination of technical and critical thinking skills that I hope to possess. MGA is close to home and gives me a good foothold into my career track."
His greatest experience as a Middle Georgia State graduate student has been … "To be honored by the Georgia Association of Museums for my work with the Museum of Technology."
To him, greatness means … "Being able to not only do great things, but inspire those around you to do the same in whatever way they can."
In five years …
"I hope to have obtained my doctorate degree and become a tenure-track professor at the university level."